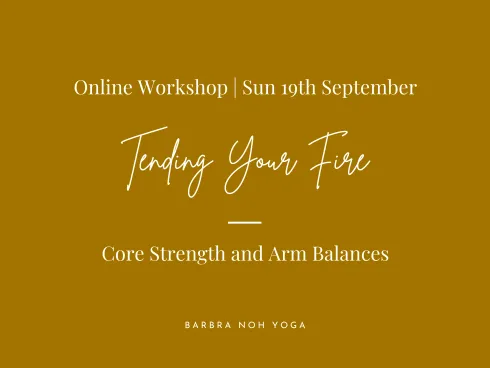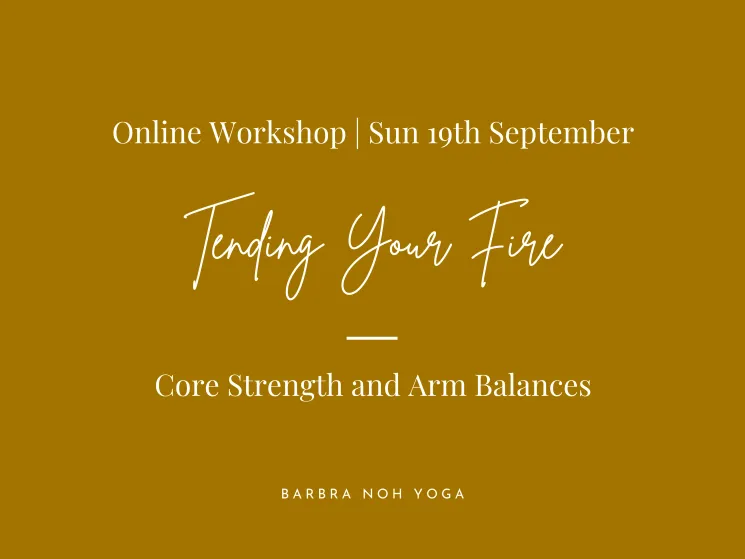 Tending Your Fire: Core Strength and Arm Balances
Level
All Levels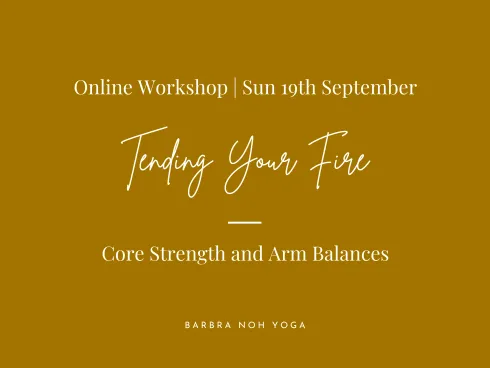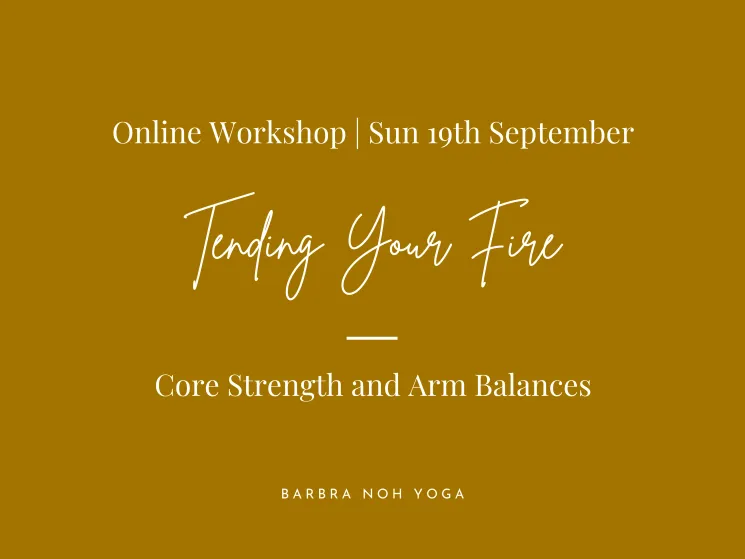 All class times are CET/Berlin time.
Strength & Grace Yoga – Online Masterclass Series with Barbra Noh
A masterclass is a practice session designed to further develop your skills, confidence and competency in yoga.
With these classes you will explore specific areas of the asana practice by applying alignment principles that support you to safely progress from basic poses to more advanced variations. Basic poses will become more interesting and advanced poses will become more accessible.
Barbra will offer variations and modifications to ensure that all poses are suitable for all ranges of experience, strength and flexibility.
Each class is centered around a theme to expand your perspective on life and to brighten your heart.
Date
Started on Sunday, September 19, 2021
Multiple sessions - see schedule
There is an online stream available for this activity. To participate, take the following steps:
This studio uses Zoom as their online streaming provider. Download the according app to your laptop, tablet or smartphone

Access to the online livestream is available 15 minutes before the start of the activity. Simply go to "My bookings" and click on "Join online stream now" to be redirected to the corresponding page

With some streaming providers (e.g. Zoom) it is possible for participants to see each other. However, it is theoretically possible to deactivate the camera function. The name you enter when entering the online meeting room is displayed to other participants. However, you can always change your name (e.g. only the initials). Please note: Individual rules for online participation may apply for each class or venue.
Teacher
Barbra
About
Barbra Noh has been a student of movement her whole life. She is an internationally recognised yoga teacher who loves to share her passion for health, healing and personal growth. An Australian based in Munich/Germany, she travels internationally to teach workshops, offer retreats and present at conferences. Additional to her highly regarded teacher trainings she is also co-founder of the healing system, ThaiVedic Yoga. Barbra found that yoga and meditation changed her life, giving her tools to work with her mind, heal her body and nourish her spirit. She believes the transformational techniques and teachings of yoga empower and encourage us in our quest to sense our worthiness and live our full potential.
Education
My passion for yoga led me to become a teacher in 2000. Based in Munich, Germany, I have been travelling to teach internationally for 20 years. The power of yoga and the great teachers I have been fortunate to study with have inspired me to strive for excellence in all aspects of teaching yoga – from my own practice, to supporting students, and mentoring teachers in their quest to discover and live their full potential. The yoga background encompasses a broad range of styles and traditions including Sivananda, Iyengar, various Vinyasa styles, Vinyasa Krama in the Krishnamacharya tradition and Vipassana meditation. When I began my study of Anusara Yoga in 2006, my practice and teaching were completely transformed. I became a fully certified Anusara Yoga teacher in 2011 and am now a registered Experienced Certified Anusara Yoga Teacher (ECAT) and Subject Matter Specialist for Ayurveda with the Anusara School of Hatha Yoga. In 2013 I undertook a course of study called "Working with People: A Psychology of Awakening", conducted by Rafia Morgan and Turiya Hanover, the founders of Path of Love. My participation in the Path of Love process was life-changing and has deeply influenced my approach to leading groups. In 2014, I became co-founder of a unique approach to yoga and healing called ThaiVedic when Kimmana Nichols and Sebastian Bruno invited me to join them in developing a system that integrates Bodywork, Ayurveda and Yoga. This system is the realisation of our aspiration to offer education and share our accumulated knowledge of health and self-care from a holistic, traditional medicine perspective. My role has been to guide the yoga and structural therapy parts of our curriculum. In 2015, the German edition of my book "Yoga – Mit Kraft und Anmut leben" was published, and the third and expanded new edition was released in 2019. The English edition, "Yoga – Living with Strength and Grace" is planned for release on my website in 2020. It was actually the process of writing that inspired the name Strength & Grace Yoga to describe my approach to yoga. Strength & Grace Yoga is Anusara plus…everything that interests Barbra! To the solid base of Anusara Yoga I continue to add, evolve and develop my practice and teaching. I love to create and design my own trainings and educational programs. Above all, my teaching is informed by my own practice, my observations and my dialogue with students around the world over the past 20 years. You will find my classes contemplative yet powerful and dynamic; challenging yet sprinkled with humour. It is my great wish to guide students toward a healthier and happier relationship with their bodies and minds. It is my belief that through a deeper awareness of ourselves we come to appreciate our own innate value.
Schedule
Check out which dates are available for this event
| Date | Time | Location | Teacher |
| --- | --- | --- | --- |
| 09/19/2021 | 10:00 AM - 12:00 PM | Online | Barbra |
Cancellation policy
Stornierungen sind online auf Eversports bis zu 24 Stunden vor Beginn möglich.
Tending Your Fire: Core Strength and Arm Balances
Date
Started on Sunday, September 19, 2021
Multiple sessions - see schedule