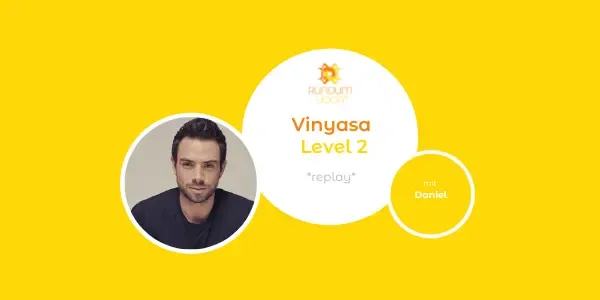 22.11.22 / Vinyasa Level 2 / 90 Min.
Video
Facility/Studio
Rundum Yoga Unterbilk
Availability after purchase
7 days
Price
13.00 €
Single ticket
39.00 €
Fall in Love Deal - 3er Block
99.00 €
5 x Free Choice
189.00 €
10 x Free Choice Card
79.00 €

/ month

Membership Unlimited - 12 Month
89.00 €

/ month

Membership High Flexible - 1 Month
About the class
Vinyasa Level 2
Diese fortgeschrittenen Vinyasa Klasse richtet sich an Schüler, die sich im Level 1 und Level 1-2 wohl fühlen und bereit sind, ihre Praxis weiter zu vertiefen.
Geübt wird ein Flow mit Asana-Varianten und kreativen Übergängen, die Kraft aufbauen, sowie Balancegefühl, Ausdauer und Flexibilität fördern.
About the trainer/teacher
Die Yogapraxis ist für mich der Weg, die natürliche Harmonie zwischen der Seele und dem Körper wieder herzustellen und ein andauernder Prozess der persönlichen Entwicklung, der uns hilft, unsere physischen und mentalen Begrenzungen zu erkennen, anzunehmen und mit der Zeit zu überwinden. Durch seinen Beruf habe ich viele Gelegenheiten die unterschiedlichsten Yogastile in den USA und in Europa auszuprobieren und zu entdecken. Nach 3 Jahren intensiver und regelmäßiger Praxis, vielen Büchern, internationalen Workshops und Konferenzen war der richtige Zeitpunkt gekommen und ich began meine 200h Ausbildung zum Vinyasa Flow Lehrer im Yogaloft Köln, die ich im Juni 2017 abgeschlossen habe. Der Vinyasa Flow den ich bei meinen Lehrern Sonia Taylor Bach und Dwayne Holliday erlernte, war genau die Schnittmenge aus den Stilen und Traditionen die ich ausprobierte und die mich inspirieren - kreativ, undogmatisch und ehrlich! Mein Unterricht basiert auf einen kraftvollen und dynamischen Flow, bei dem der Atem die Bewegung leitet und in den Asanas zu mehr Stabilität und Leichtigkeit verhilft. Besonders die Übergänge von einer Haltung in die nächste machen meine Praxis zu einem Spiel mit den körperlichen und geistigen Grenzen, Ausdauer, Balance und Flexibilität."