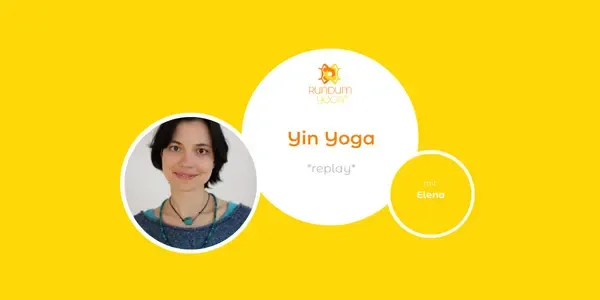 17.11.22 / Yin Yoga / 90 Min.
Video
Facility/Studio
Rundum Yoga Unterbilk
Availability after purchase
7 days
Price
13.00 €
Single ticket
39.00 €
Fall in Love Deal - 3er Block
99.00 €
5 x Free Choice
189.00 €
10 x Free Choice Card
89.00 €

/ month

Membership High Flexible - 1 Month
About the class
Lerne Loszulassen!
Ausschließlich im Sitzen und Liegen ausgeführt, richtet Yin Yoga den Blick nach innen und greift meditative Elemente auf. Die Stunden bieten viel Raum für bewusstes Nachfühlen und ist eine achtsame Schulung
About the trainer/teacher
Das Leben bewusst wahrzunehmen und sich selbst zu erlauben Seele, Geist und Körper in Einklang zu bringen, mehr über sich selbst zu erfahren und zu entdecken – das ist für Elena Yoga.  Auf der Suche nach mehr innerer Harmonie ist sie vor zehn Jahren zum ersten Mal mit Yoga in Berührung gekommen und fand es so spannend, dass sie sofort ein Ticket nach Indien gekauft und einen Monat dort verbracht habe. Egal wo ihrLeben sie hingetrieben hat, sei es während ihres Malereistudiums nach Berlin oder nach New York, sie hat immer Yoga praktiziert.  Die Transformation in ihr selbst sieht sie jeden Tag. Yoga hat sie gelehrt, sich mehr auf ihre Intuition zu verlassen, weniger Angst vor dem Leben zu haben und sich selbst zu respektieren. Daher ist für sie die tägliche Yogapraxis von großer Bedeutung.  Eine Yogastunde zu gestalten ist ein faszinierender und sehr kreativer Prozess. Sie dankt von ganzem Herzen all ihren Lehrern, die sie auf ihrem Weg begleiten. Elena unterrichtet Vinyasa Yoga.