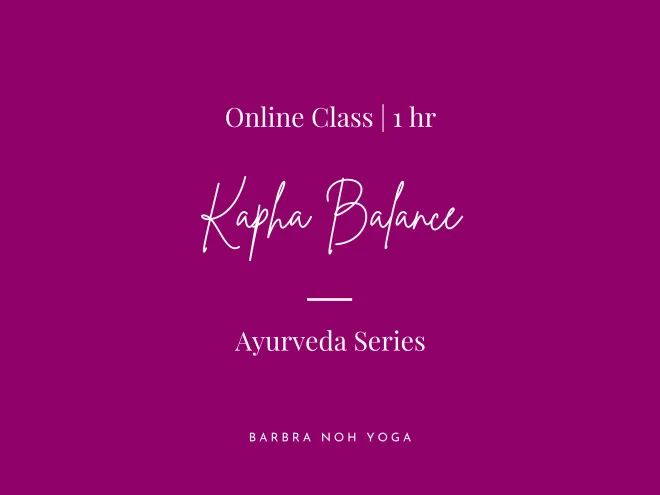 Kapha Balance
Video
Facility/Studio
Barbra Noh Yoga
Availability after purchase
Unlimited availability
Price
| | |
| --- | --- |
| 108.00 € | KULA Gold Membership / full access to the entire video library for 12 months |
About the class
Join Barbra's KULA Gold Membership for €108,- giving you full access to her video library for 24 months. You will find yoga classes, workshops, yogic wisdom, and meditations. The library will continue to grow over time.
Kapha is the ayurvedic principle of structure (physical form) and stability. When Kapha is too dominant we can become lethargic, unmotivated, lose interest in movement and unwilling to change.
This class is designed to balance (reduce) Kapha with a more dynamic approach to the practice that encourages a sense of joyful aliveness. It is ideal if you are feeling stuck or a little sad, or simply want to boost your energy and motivation.
The sequence includes faster movements in Vinyasa style, arm balances and backbends to open up the chest and lungs.
About the trainer/teacher
Barbra Noh has been a student of movement her whole life. She is an internationally recognised yoga teacher who loves to share her passion for health, healing and personal growth. An Australian based in Munich/Germany, she travels internationally to teach workshops, offer retreats and present at conferences. Additional to her highly regarded teacher trainings she is also co-founder of the healing system, ThaiVedic Yoga. Barbra found that yoga and meditation changed her life, giving her tools to work with her mind, heal her body and nourish her spirit. She believes the transformational techniques and teachings of yoga empower and encourage us in our quest to sense our worthiness and live our full potential.