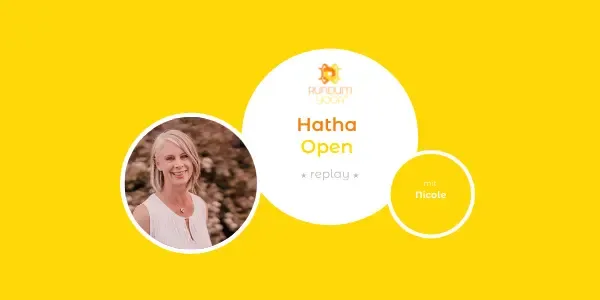 08.12.22 / Hatha Open Class / 90 Min.
Video
Facility/Studio
Rundum Yoga Unterbilk
Availability after purchase
7 days
Price
13.00 €
Single ticket
39.00 €
Fall in Love Deal - 3er Block
99.00 €
5 x Free Choice
189.00 €
10 x Free Choice Card
89.00 €

/ month

Membership High Flexible - 1 Month
About the class
Hatha Yoga
Beim Hatha Yoga rückt das längere Halten einzelner Asanas in den Vordergrund. Das bewusste und kraftvolle Verweilen in einer bestimmten Haltung öffnet dich für ihre körperlichen, geistigen und energetischen Wirkungen. So bleibt dein Körper elastisch und flexibel, dein Geist wach und achtsam, deine Seele frei und offen.
About the trainer/teacher
Nicole liebt Yoga und ist schon lange regelmäßig in Kurse gegangen. Als sie dann in einer Yogastunde die umwerfende Erfahrung machte, dass nach einer Pranayama-Übung (Kapalabhati) ihr Atem stillstand und sie sich unfassbar friedlich fühlte, wollte sie verstehen, was da passiert war. Somit begann ihre Reise. Gleichzeitig praktizierte sie intensiv Pranayama und Meditation und besuchte ihr erstes Vipassana-Retreat. Schließlich begann sie nach langer Praxis im Ashtanga Yoga, aufgrund von Rückenschmerzen, sich von diesem Yogastil abzuwenden, hin zum Anusara Yoga. Nach einigen Jahren Praxis in dieser Richtung absolvierte sie die Immersion I. Jedoch fehlten ihr dort die Flows. Deshalb hat sie seit geraumer Zeit viel Spaß an Vinyasa Yoga und besonders an den Flows von Shiva Rea.  Eine Zeit lang hat sie für das IST Studieninstitut zwei Studienhefte zum weiterführenden Yogaphilosophie-Studium überarbeitet. Nicole unterstützt die Yogalehrerausbildung bei Rundum unter anderem im Bereich der Yogaphilosophie. Sie unterrichtet Hatha Yoga, Vinyasa Yoga, Yin Yoga, Meditation und bietet bei uns das Philosophie Café, Workshops und die Hatha Weiterbildung an.