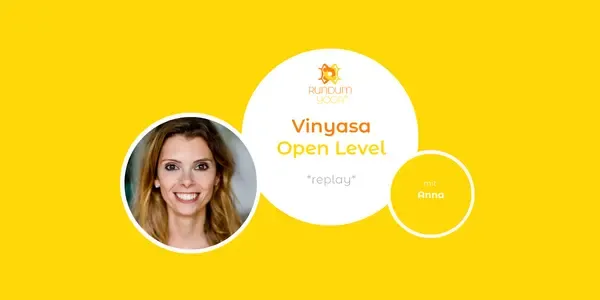 05.12.22 / Vinyasa Open Class / 90 MIn.
Video
Facility/Studio
Rundum Yoga Unterbilk
Availability after purchase
7 days
Price
13.00 €
Single ticket
39.00 €
Fall in Love Deal - 3er Block
99.00 €
5 x Free Choice
189.00 €
10 x Free Choice Card
79.00 €

/ month

Membership Unlimited - 12 Month
89.00 €

/ month

Membership High Flexible - 1 Month
About the class
Vinyasa Open Class
Mit dem Fokus auf ihrer präzisen Ausrichtung werden verschiedene Körperpositionen miteinander kombiniert, so dass ein harmonischer und kreativer Fluss von Bewegungsabläufen entsteht, der Teilnehmer verschiedener Level anspricht.
About the trainer/teacher
"Expect nothing, appreciate everything." Nichts zu erwarten und dankbar zu sein für alles, was bereits da ist, ist mein persönlicher Schlüssel für ein glückliches Leben. Liebe und Fülle – das ewige Prinzip allen Seins. Meinen Weg zum Yoga fand ich, als ich einen Ausgleich zum stressigen Arbeitsalltag suchte. Nach der ersten Yoga-Klasse hüpfte mein Herz vor Freude und ich fühlte mich in diesem Moment zum ersten Mal in meinem Leben angekommen. Yoga erdet mich, fordert mich heraus, schenkt mir Gelassenheit und hilft mir, achtsamer zu sein, den Blick nach innen zu richten und mich so anzunehmen, wie ich bin. Zu wissen, dass alles in mir ist und ich selbst der Ruhepol in meinem Leben sein kann, hat mein Leben nachhaltig verändert. Denn als quirliger Mensch liebe ich es, aktiv zu sein. Es gibt mir das Gefühl, lebendig zu sein. Im Yoga finde ich die optimale Balance aus Bewegung und Momenten der Stille. Die Verbindung von Körper, Geist und Herz sowie das Zusammenspiel von Bewegung und Atmung faszinieren mich dabei immer wieder. Über die Jahre vertiefte ich meine Praxis und wollte mehr über die Philosophie des Yoga, die Wirkung von Asanas, Meditation und Pranayama lernen. 2021 absolvierte ich die 200hrs Multistyle-Ausbildung bei Rundum Yoga. Das war eine wundervolle Erfahrung und zugleich ein Weg zu mir selbst. Ich lade dich ein, mit Akzeptanz, Selbstliebe und Achtsamkeit auf die Matte zu gehen und sie zu deinem Ort der Dankbarkeit zu machen. Dabei unterstütze ich dich in deiner Praxis und ermutige dich, auch mal Neues zu wagen. Lass uns gemeinsam durch dynamische, spielerische Vinyasa-Flows fließen oder in erdenden Yin-Stunden entspannen und loslassen. Ich freue mich, dich auf der Matte zu sehen!