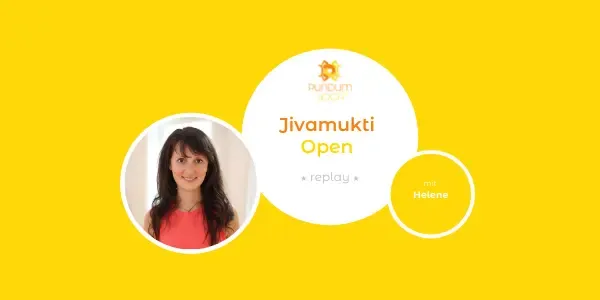 19.11.22/ Jivamukti Open Class / 90 Min.
Video
Facility/Studio
Rundum Yoga Unterbilk
Availability after purchase
7 days
Price
13.00 €
Single ticket
39.00 €
Fall in Love Deal - 3er Block
99.00 €
5 x Free Choice
189.00 €
10 x Free Choice Card
89.00 €

/ month

Membership High Flexible - 1 Month
About the class
Jivamukti Open Class
Die Jivamukti Open Class ist eine Kombination aus fließenden Vinyasa Sequenzen, bewusster Atemführung, spirituellen Lehren - für das Leben auf und abseits der Yoga Matte, inspiriert aus dem 'Fokus des Monats' - gemeinsamem Singen oder Chanting, Entspannung und Meditation.
About the trainer/teacher
Das Leben bietet grenzenlose Facetten und unzählige Gründe zu feiern. Gemeinsam mit euch möchte Helene genau das auch auf der Matte erleben. Sie will sich mit euch bewegen – tanzen und flowen, kraftvoll und mit Energie. Sie will Einkehr finden - gelassen und ruhig, mit Leichtigkeit und Achtsamkeit. Sie will mit euch die Welt um uns herum ausschalten, um einfach nur zu genießen - stilles Strahlen in strahlender Stille.  Angefangen in einem Kurs im Fitness Studio vor über zehn Jahren wurde Yoga zu einem festen Bestandteil und einer perfekten Ergänzung ihres Sportprogramms. Doch das war irgendwann nicht genug und sie wurde neugierig, was Yoga außer dem körperlichen Aspekt noch alles für sie bereithält. Nach und nach intensivierte sie ihre Yoga Praxis, lernte die Vielseitigkeit in Workshops und auf Yoga Festivals die verschiedensten Yogastile kennen.  Life should be a continual celebration. – Osho Helene unterrichtet Vinyasa Yoga.