ONLINE 2. Chakra - Suche nach Sinnlichkeit
Online stream
Starts on Friday, 11/02/2022
Description:
2.Chakra - Suche nach Sinnlichkeit
Das 2.Chakra beschäftigt sich mit der Sinnlichkeit - als beflügelte Lebensenergie, die schon über das Überleben hinausgeht. Der Genuss steht dabei im Vordergrund. Dieses Chakra ist auschlaggebend, wie wir die Nähe zu anderen leben und ob wir Zugang zu den schönen Dingen haben. Maßgeblich spiegelt das Chakra unsere sexuelle Energie wider. Ist genug Vitalität (sexuelle Kraft) als Kreativität vorhanden? Kann sie gelenkt werden? Wie ist die Beziehung zur Sexualität? Kann/darf sie ausgelebt werden?
Die Inhalte In diesem Seminar arbeiten wir an deiner Energie nur energetisch. Es gibt keine körperlichen sexuellem Übungen. -Energetische Befreiung von Dogmen - Transformation von sexueller Energie -Schuld Healing -Ahnenarbeit -Transformation der eigenen Beziehung zur Sexualität
Du bekommst/lernst: -neue Healing Tools -Body Chakra Teaching -Transmission (Sehertechnik) nur vergangene sexuelle (schädliche) Verbindungen zu kappen
Das Chakra System Den 1.Tag der 3 Tage widmen wir uns nochmals dem Chakra System mit dem Schwerpunkt der Themen des 2.Chakras und karmischen Blockaden.
Inhalte: -Kommunikationsfluß zwischen den Chakren verbessern -Karma Knoten lösen/Karma befreien -Sexueller Stau im Chakra System ins Fließen bringen -Reinigen/optimieren des Chakra Systems -Fremdbesetzungen von alten Beziehungen lösen
Alle Chakra Seminare können einzeln gebucht werden. Für jedes Seminar gibt es eine Teilnahmebestätigung. Werden alle Seminare absolviert, wird ein Zertifikat "Chakra Healing Coach" ausgestellt.
Voraussetzung ist absolviertes 1. Modul der Essener Healing Coach Ausbildung.
Online stream
There is an online stream available for this activity. To participate, take the following steps:
This studio uses Zoom as their online streaming provider. Download the according app to your laptop, tablet or smartphone
Access to the online livestream is available 15 minutes before the start of the activity. Simply go to "My bookings" and click on "Join online stream now" to be redirected to the corresponding page
With some streaming providers (e.g. Zoom) it is possible for participants to see each other. However, it is theoretically possible to deactivate the camera function. The name you enter when entering the online meeting room is displayed to other participants. However, you can always change your name (e.g. only the initials). Please note: Individual rules for online participation may apply for each class or venue.
Trainer :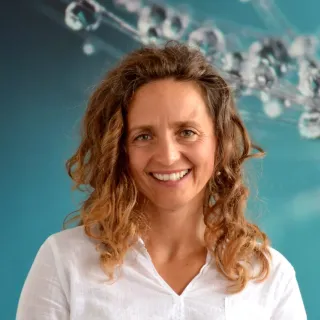 Danijela
Im Yogaunterricht kulminieren all meine Tanz- und Therapieausbildungen. Hier finde ich meine Qualität wieder das Potenzial in anderen Menschen zu erkennen und dieses liebevoll erfahrbar zu machen. Verschiedene Yogastile wie Hatha, Tao und Kundalini münden in kreativen, themenbezogenen Yoga Vinyasa Flows. Yoga bedeutet für mich absolute Hingabe in der Bewegung, erspüren struktureller und energetischer Zusammenhänge im Körper und das Erfahren stillen Seins – höchste Meditation. Im Yogaunterricht entfalte ich mich als Kanal – funktionelle Anatomiekonzepte wie die Spiraldynamik® für exaktes Ausrichten, psychologische Philosophie und energetische Techniken verbinden sich zu einem tiefgreifenden Erleben Deiner Selbst. Durch meine jahrelange Unterrichts- und Therapieerfahrung ermögliche ich Dir einen systematisch-klaren und gleichzeitig kreativ-intuitiven Zugang zu Dir Selbst. Motiviert von der tiefen Überzeugung, dass sich Wahrheit in jeder Form und jedem Ausdruck zeigt, liebe ich es die Räume spiritueller Schulen und Energiekonzepte zu durchschreiten und das Gemeinsame zu entdecken. Integrale/Integrative Selbsterkennung heißt unsere Reise, auf die ich Dich gerne mitnehme. Lachen, schwitzen und Freude im Unterricht sind mir genauso wichtig wie Entspannung und Meditation.
Dates:
| | | | | |
| --- | --- | --- | --- | --- |
| 1. | 11/02/2022 | 13:30 - 21:00 | Schockenriedstraße 4 B, 70565 Stuttgart | Danijela |
| 2. | 12/02/2022 | 09:30 - 17:30 | Schockenriedstraße 4 B, 70565 Stuttgart | Danijela |
| 3. | 13/02/2022 | 09:00 - 17:00 | Schockenriedstraße 4 B, 70565 Stuttgart | Danijela |
Cancellations
Der Teilnehmer kann bis zu 8 Tage vor Veranstaltungsbeginn zurücktreten. Der Veranstalter hat dann Anspruch auf eine angemessene Entschädigung. Diese beträgt 50% des vereinbarten Veranstaltungsgebühr. 7 Tage bis 1 Tag vor Veranstaltungsbeginn 90 % der Veranstaltungsgebühren.
Bei Nichterscheinen zu Veranstaltungsbeginn wird das volle Teilnahmeentgelt fällig.
* All prices including VAT