ein-lassen// ab-tasten//ein-tauchen//be-rühren
Online stream
Starts on Sunday, 17/01/2021
Price from 5.00 €
Description:
Spendenklasse
Die Fragen lieben zu lernen und sie geduldig reifen zu lassen, schenkt uns die Möglichkeit dem Leben in seiner Vielfalt zu begegnen.
Darin nehmen wir unsere innewohnende Sehnsucht, das Leben in seiner Tiefe erforschen zu wollen, ernst und machen uns mit Freude und Neugierde selber auf die Suche nach Antworten, statt uns von schnellen und einfachen Antworten verführen zu lassen. Es wird eine großzügige Portion Nahrung für den Geist geben und eine Yin-Yoga Praxis, die das Gesagte erfahrbar machen möchte, bewusst verlangsamt und uns daran erinnert, wie wir uns wirklich einlassen können, uns vom Leben berühren zu lassen.
---
Online stream
There is an online stream available for this activity. To participate, take the following steps:
This studio uses Zoom as their streaming provider to online stream their activities. Download the according software or app to your laptop, tablet or smartphone.
The access to the online stream is available 15 minutes before the start of the activity. You can find the link for the online stream in your online profile under "My bookings". With a click on "Join online stream now" you will be forwarded to the corresponding page and you join the activity online!
Specific streaming providers, e.g. Zoom, allow participants to see each other through the video camera. If you do not want to show yourself or the personal environment, you can deactivate the camera function or cover the camera. The name you enter when you join the online meeting room will be shown to other participants. However, you can change your name at any time (e.g. only specify the initials).
Teacher :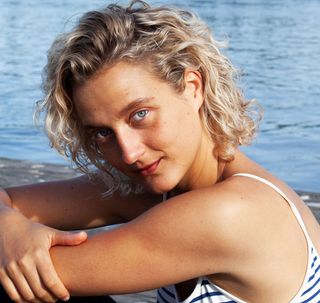 Fee
"Es war die Sehnsucht die uns hat Körper werden lassen" Die Sehnsucht nach einer Form, in der sich die Schöpfung in ihrem ganzen Spektrum, in ihrer Schönheit ausdrücken darf. Das Sein begreift sich im ständigem Werden, im immer wieder geboren werden in Form und Körper hinein. Jede Idee, jedes Potenzial, jede Sehnsucht verdichtet, manifestiert sich im Körper, drückt sich in ihm aus. Suche nach Ausdruck, Liebe zur Schönheit, einer Schönheit ohne Zweck, Form und Verkörperung- all das führte mich wie von selbst nach einem Jahr des Philosophiestudiums zum Kunststudium, zur Fotografie. Auch das Yoga fand sich in mir im Alter von 18 Jahren selbst. Barfuss, Augen zu - die Poesie des Daseins in der Sprache des Körpers - Diese Sprache immer mehr sprechen zu lernen, das Leben durch mich hindurchfließen zu lassen, mich von ihm berührt zu lassen- das ist YOGA für mich ! Yoga bedeutet Raum in mir zu schaffen: Eroberten Raum in mir als Wahrheit und Impuls aufnehmen, um im Außen Räume erschaffen zu können- Räume in denen die Schönheit der Wahrheit zum obersten Gesetz wird. Ich liebe die Stille, das Pure, das Natürliche - das Wesensechte. All das versuche ich in meine Kurse zu bringen, kombiniert mit kraftvollen stark körperlichen Sequenzen. Ich bin sehr dankbar, dass all die großartigen Lehrer von Jivamukti Barcelona und Vishnus Couch meinen Weg so positiv geprägt und ermutigt haben, dass ich meine 200+ Lehrerausbildung bei Vishnus Couch absolvierte. Zurzeit befinde ich mich in der 300+ Advanced-Lehrerausbldung, ebenfalls bei Vishnus Couch.
Dates:
| | | | | |
| --- | --- | --- | --- | --- |
| 1. | 17/01/2021 | 15:00 - 16:30 | Online LVC, 50674 Köln | Fee |
* All prices including VAT