Sneak Peak Challenge
Online stream
Starts on Tuesday, 20/07/2021
Price 62.00 €
Description:
Über 5 Wochen schauen wir uns gezielt fortgeschrittene Asanas gemeinsam an. Ein knackiger Flow bereitet dich vor, ein ausgedehnterer Technikteil bringt dir die Position näher. Du übst mit ausreichend Zeit und danach geht es in ausgleichende Yinpositionen. 5 Wochen Fokus für dich und deine Praxis.
Tipp: Wenn du du vorher noch mehr Erwärmung möchtest: Komm um 19 Uhr zum Lotus Flow bei Nadine, buchbar über unseren regulären Online Kursplan.
Die Klassen werden aufgezeichnet und können im Replay für 2 Wochen wiederholt werden. Den Link bekommt ihr am nächsten Tag zugeschickt.
Online stream
There is an online stream available for this activity. To participate, take the following steps:
This studio uses Zoom as their streaming provider to online stream their activities. Download the according software or app to your laptop, tablet or smartphone.
The access to the online stream is available 15 minutes before the start of the activity. You can find the link for the online stream in your online profile under "My bookings". With a click on "Join online stream now" you will be forwarded to the corresponding page and you join the activity online!
Specific streaming providers, e.g. Zoom, allow participants to see each other through the video camera. If you do not want to show yourself or the personal environment, you can deactivate the camera function or cover the camera. The name you enter when you join the online meeting room will be shown to other participants. However, you can change your name at any time (e.g. only specify the initials).
Teacher :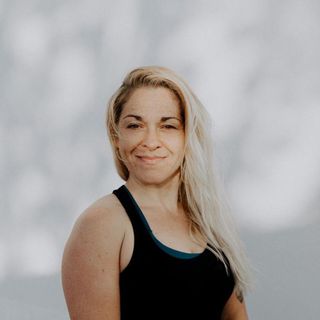 Nadine
Das Leben ist kurz; das habe ich im September 2012 am eigenen Leib erfahren. Was eben noch der Beginn eines Sommertrips war, endete plötzlich im Krankenhaus mit Schleudertrauma. Ich hab danach deutlich wahrgenommen, wie dankbar ich für das Leben bin und Yoga bekam dabei schnell eine wichtige Rolle in meinem Leben. Aus einer täglichen Praxis und tiefer Dankbarkeit erwuchs das Bedürfnis, dieses Gefühl weiterzugeben. Ich lasse die Teilnehmer schwitzen in Flow Klassen, die eine saubere Technik nicht hinten über fallen lassen. Somit kitzele ich nicht nur Willenskraft, sondern auch Freude heraus. Der Atem trägt uns über schwierige Situationen hinaus, holt uns immer wieder in die Achtsamkeit zurück. So können meine Schüler über sich selbst hinauswachsen.Ein großartiges Gefühl, mit dem man aus einer Stunde geht. Und das kann auch bedeuten erfolgreich an einer Asana gescheitert zu sein - hoffentlich mit einem Lächeln im Gesicht. Insgesamt über 700 Stunden - am Ende sagt das wenig aus über die Fähigkeiten einer Yogalehrerin. Ich finde es für mich wichtig, mich kontinuierlich fortzubilden, neue Blickwinkel zu finden, die eigene Praxis zu beleuchten, und auch frische Ideen zu betrachten. Der Körper ist genauso schlau, wie er faul sein möchte und ich verstehe es als meine Aufgabe, meinen eigenen und auch deinen Körper intelligent zu halten.
Dates:
| | | | | |
| --- | --- | --- | --- | --- |
| 1. | 20/07/2021 | 20:15 - 21:15 | Online LVC, 50674 Köln | Nadine |
| 2. | 27/07/2021 | 20:15 - 21:15 | Online LVC, 50674 Köln | Nadine |
| 3. | 03/08/2021 | 20:15 - 21:15 | Online LVC, 50674 Köln | Nadine |
| 4. | 10/08/2021 | 20:15 - 21:15 | Online LVC, 50674 Köln | Nadine |
| 5. | 17/08/2021 | 20:15 - 21:15 | Online LVC, 50674 Köln | Nadine |
* All prices including VAT