Special (ONLINE): 108 Sonnengrüße mit Sabine Fleichaus
Online stream
Starts on Friday, 17/12/2021
Price from 5.00 €
Description:
Die Zahl 108 gilt im Yoga und in anderen Traditionen auf der ganzen Welt als heilig. Sie steht für die Gesamtheit der Existenz. Viele alte Yogaschriften sind in 108 Kapitel unterteilt (z.B. die Veden und die Upanishaden), Götter haben 108 Namen und die Mala (Gebetskette) besteht aus 108 Perlen. So ist es ein schönes und erhebendes Ritual, die magischen Tage zum Jahresende mit 108 Sonnengrüßen willkommen zu heißen. Im sanften Fluss von Vorbeugen, Rückbeugen und Umkehrhaltungen im Einklang mit der Atmung können Geist und Körper zu einer Einheit verschmelzen und in einem ausgedehnten Savasana vollständig zur Ruhe kommen. Diese Klasse ist auch für fortgeschrittene Anfänger geeignet.
Online stream
There is an online stream available for this activity. To participate, take the following steps:
This studio uses Zoom as their online streaming provider. Download the according app to your laptop, tablet or smartphone
Access to the online livestream is available 15 minutes before the start of the activity. Simply go to "My bookings" and click on "Join online stream now" to be redirected to the corresponding page
With some streaming providers (e.g. Zoom) it is possible for participants to see each other. However, it is theoretically possible to deactivate the camera function. The name you enter when entering the online meeting room is displayed to other participants. However, you can always change your name (e.g. only the initials). Please note: Individual rules for online participation may apply for each class or venue.
Trainer :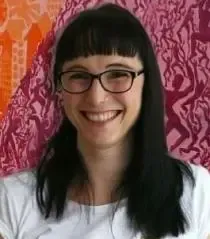 Sabine Fleichaus
Yoga habe ich schon recht früh kennengelernt, einige Jahre aber eher unregelmäßig praktiziert. In einer schwierigen Lebensphase habe ich dann seine rundum heilende Wirkung kennen- und für mich nutzen gelernt. Seitdem bin ich völlig vom Yogavirus "infiziert".Nachem ich verschiedene Stile ausprobiert und entdeckt habe, dass ich diesen "Schatz" an andere Menschen weitergeben möchte, hab ich mich für eine Ausbilung im Vinyasa Yoga entschieden. Ich liebe die ineinanderfließenden, auf den Atemrhytmus abgestimmten Bewegungen dieses Stils, die den Geist so beschäftigt halten, dass man mühelos im Jetzt sein kann und in eine "Meditation in Motion" gelangt. Wichtig ist mir in meinen Stunden der Fokus auf das Fühlen und "zu sich zurück kommen", da uns das im Alltag allzu leicht verloren geht.
Dates:
| | | | | |
| --- | --- | --- | --- | --- |
| 1. | 17/12/2021 | 19:00 - 20:30 | UNIT Yoga - Biebricher Allee 30, 65187 Wiesbaden | Sabine Fleichaus |
Cancellations
Eine Absage bis 2 Stunden vor Kursbeginn gilt als Frühabsage und ist kostenlos. Eine spätere Absage oder Nicht-Erscheinen gilt als Spät-Absage und wird bei Abo-Inhabern mit einer Abo-Einheit und bei Mitgliedern (Member) mit 11 Euro berechnet. Mit Online-Buchung einer Yoga-Klasse erklärt sich der Teilnehmer damit einverstanden.
* All prices including VAT