JUST BREATHE - Meditation Mai
Online stream
Starts on Monday, 03/05/2021
Price from 44.00 €
Description:
'JUST BREATHE' 21 Tage Meditation
Durch Meditation in die Klarheit und innere Kraft: Bei der "Just Breathe" Meditation treffen wir uns 21 Tage jeden morgen (Montag bis Freitag) um 6:16 Uhr für max. 30 min. über Zoom, um gemeinsam zu meditieren. Wir zeigen Dir, wie Du die stille Meditation für Dich und in Deiner Morgenroutine nutzen kannst, um in deiner Leichtigkeit und Gelassenheit zu kommen. So kannst du jeden Morgen kraftvoll in den Tag starten. Wir stellen dir verschiedene Meditationsarten vor bei denen du für dich herausfinden kannst, was dir gut tut. Auch werden uns die Chakren begleiten.
Der Kurs bringt dich zu Deiner ganz eigenen Meditationspraxis,
 die Du mit Leichtigkeit in Deinen Alltag einbringen kannst.
Warum 21 Tage? Nach 21 Tagen hat sich in der Regel der Körper und der Geist auf eine neue Routine eingestellt.
Für den Kurs sind keine Vorkenntnisse nötig.
Wir freuen uns auf Dich! Anni & Antje La Luna Woman Circle
Online stream
There is an online stream available for this activity. To participate, take the following steps:
This studio uses Zoom as their streaming provider to online stream their activities. Download the according software or app to your laptop, tablet or smartphone.
The access to the online stream is available 15 minutes before the start of the activity. You can find the link for the online stream in your online profile under "My bookings". With a click on "Join online stream now" you will be forwarded to the corresponding page and you join the activity online!
Specific streaming providers, e.g. Zoom, allow participants to see each other through the video camera. If you do not want to show yourself or the personal environment, you can deactivate the camera function or cover the camera. The name you enter when you join the online meeting room will be shown to other participants. However, you can change your name at any time (e.g. only specify the initials).
Trainer :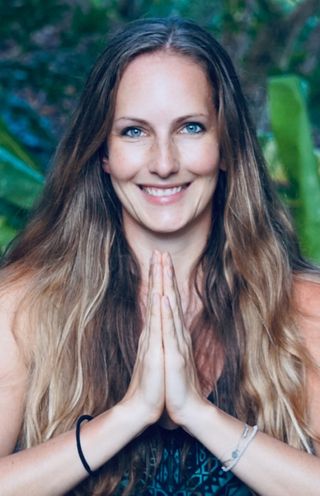 Anni
Auf Basis der vier Elemente (Erde, Feuer, Wasser, Luft) unterrichte ich Yoga im Spirit Yoga Stil, welches durch Atem, achtsame Praxis und dynamisches Sequenzing des Vinyasa Yoga verbunden wird. Atem (sanskrit: prana) bedeutet Lebensenergie. Die Konzentration auf den Atem und diesen mit Bewegung zu synchronisieren hilft uns, unseren Körper besser wahrzunehmen und so Stress und Verspannungen des Alltags abzubauen. Durchatmen, um bei sich anzukommen.
Dates:
| | | | | |
| --- | --- | --- | --- | --- |
| 1. | 03/05/2021 | 06:16 - 06:46 | Mondstraße 88, 48155 Münster | Anni |
| 2. | 04/05/2021 | 06:16 - 06:46 | Mondstraße 88, 48155 Münster | Anni |
| 3. | 05/05/2021 | 06:16 - 06:46 | Mondstraße 88, 48155 Münster | Anni |
| 4. | 06/05/2021 | 06:16 - 06:46 | Mondstraße 88, 48155 Münster | Anni |
| 5. | 07/05/2021 | 06:16 - 06:46 | Mondstraße 88, 48155 Münster | Anni |
| 6. | 10/05/2021 | 06:16 - 06:46 | Mondstraße 88, 48155 Münster | Anni |
| 7. | 11/05/2021 | 06:16 - 06:46 | Mondstraße 88, 48155 Münster | Anni |
| 8. | 12/05/2021 | 06:16 - 06:46 | Mondstraße 88, 48155 Münster | Anni |
| 9. | 13/05/2021 | 06:16 - 06:46 | Mondstraße 88, 48155 Münster | Anni |
| 10. | 14/05/2021 | 06:16 - 06:46 | Mondstraße 88, 48155 Münster | Anni |
* All prices including VAT