The Gypsy inspired ATS® Skirt with Eleen - Termin verschoben!
Starts on Saturday, 04/04/2020
Price from 10.00 €
Description:
Eleen will teach beautiful ATS Skirt movements, inspired by, among others, Phillipa Moirai, Gudrun and also Katarzyna Lidia, co-director of The Siren Project.
Let's explore more fun and beautiful ATS dance with Skirt!
These workshops are suitable for Tribal Fusion and ATS dancers.
Workshop 1: 14:00-16:00 – Flying with the skirt
Wel introduce and build up ATS combo movements with skirt and practice these fabulous steps in group formation to make it more fun!!!
Open level
Workshop 2: 16:15-18:15 – Spicy up with new steps
New new new steps, including fabulous Devi Mamak steps and more combinations - get to know the character of the steps and work with suitable music to test the new flavor of ATS!
Open Level
18:30 – 20:00 Dance Party
Enjoy the evening with free dance
What to bring: Please bring an unless 25yard skirt. You can also bring own some snacks and drinks for the dance party.
Costs:
One workshop: 35 Euro
Dance Party: 5 Euro (until 15.03.20)/10 Euro
Both workshops & Dance Party: 65 Euro (until 15.03.20)/75 Euro
Trainer :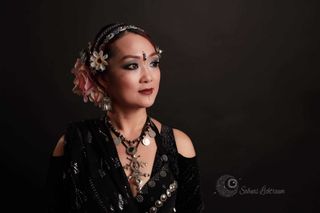 Eleen
I am Korean, born in China, now living in Frankfurt with my family. During my professional interpreter career (Korean and Chinese) I have discovered ATS© dance style since 2010. I am core member of Cibelle Dance Collective Troupe Germany and founder of Tribal Bridge ATS Festival of China. I love the concept of balancing of life, support, tolerance and connection in ATS© community to present power of woman's beauty by ATS©. In OT pur I´m teaching beginners and advanced students (in English).
Dates:
| | | | | |
| --- | --- | --- | --- | --- |
| 1. | 04/04/2020 | 14:00 - 16:00 | Falkstr. 72-74, 60487 Frankfurt | Eleen |
| 2. | 04/04/2020 | 16:15 - 18:15 | Falkstr. 72-74, 60487 Frankfurt | Eleen |
| 3. | 04/04/2020 | 18:30 - 20:00 | Falkstr. 72-74, 60487 Frankfurt | Eleen |
* All prices including VAT