ONLINE: Next Level! Multilevel-Kurse unterrichten
Online stream
Starts on Sunday, 12/07/2020
Price 40.00 €
Description:
Kennst du das als TanzlehrerIn auch?
DIe TeilnehmerInnen kommen unregelmäßig zu den Kursen, haben unterschiedliche Ziele, die Auswahl des Kurses erfolgt weniger nach Level, als nach dem Termin oder dem Level der Freundin, die mitkommt. Vielleicht kannst du/der Veranstalter deiner Kurse nur einen Kurs anbieten, so dass alle Interessierten diesen einen Kurs besuchen?
Das sind die Herausforderungen, denen sich TanzlehrerInnen heute gegenüber sehen. Viele verschiedene TeilnehmerInnen und Level, die es gilt unter einen Hut zu bringen. Egal, ob du im Turnverein, der VHS oder in einer Tanzschule unterrichtest.
Folgenden Themen werden wir uns in diesem interaktiven Seminar, in dem es um Tanz geht, aber nicht getanzt wird ;), widmen:
Herausforderungen der heutigen Zeit
Multilevel, offenes Level, Drop in-Klassen
Teilnehmergruppen und -ziele in Multilevel-Klassen
Einordnung der eigenen Fähigkeiten als Dozent
Tipps für Stundenaufbau & Curriculum für Multilevel-Klassen
Grenzen von Multilevelkursen
Dieses Seminar eignet sich für alle TanzleherInnen, Tanzschulinhaberinnen und solche, die es werden wollen. Erfahrung im Unterrichten von Tanzkursen ist von Vorteil, aber nicht Voraussetzung.
Online stream
There is an online stream available for this activity. To participate, take the following steps:
This studio uses Zoom as their streaming provider to online stream their activities. Download the according software or app to your laptop, tablet or smartphone.
The access to the online stream is available 15 minutes before the start of the activity. You can find the link for the online stream in your online profile under "My bookings / Activities". With a click on "Go to online stream now" you will be forwarded to the corresponding page and you join the activity online!
All participants are able to see the video transmission of other participants. If you do not want to show yourself or the personal environment in which you take part in the online class, you can deactivate the camera function or cover the camera. The name you enter when you join the online meeting room will be shown to other participants. However, you can change your name at any time (e.g. only specify the initials).
Trainer :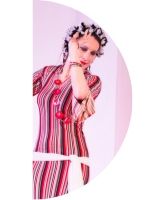 Melanie
Mein Schwerpunkt als Dozentin ist gesundheitsbewußter Bauchtanzunterricht unter Berücksichtigung methodischer und didaktischer sowie sportmedizinischer Gesichtspunkte. Ich möchte dich individuell fördern und unterrichte sowohl den ägyptischen Stil des orientalischen Tanzes, als auch orientalische Fantasytänze.
Dates:
| | | | | |
| --- | --- | --- | --- | --- |
| 1. | 12/07/2020 | 11:00 - 13:00 | Falkstr. 72-74, 60487 Frankfurt | Melanie |
* All prices including VAT