Online: Welcome to Bellydance!
Online stream
Starts on Monday, 09/11/2020
Price 72.00 €
Description:
Entdecke den Orientalischen Tanz für dich! Online - von Zuhause aus oder aus dem Hotelzimmer...
Bauchtanz ist ein exotischer, ungewöhnlich weiblicher Tanzstil, mit dem du ganz nebenbei etwas für deine Gesundheit tun kann. Es ist ein sanftes Rücken- und Beckenbodentraining, das schön anzusehen ist und definitiv mehr Spaß macht als der Gang ins Fitnesstudio ;).
Du wirst im Laufe des Kurses erste Verbesserungen deiner Haltung und damit Deiner Ausstrahlung erleben, während du in unserer Stunde vom Alltag abschaltest. In unseren sechs Kursstunden lernst du die Grundbewegungen und wendest sie gleich tanzend an.
Auch in unserem Online-Kurs kannst du Fragen stellen, wenn etwas unklar ist. Selbstverständlich erhältst du auch Einzelkorrekturen und Feedback durch unsere Dozentin. Streng begrenzte Teilnehmerzahl!
Dieser Kurs ist für Frauen jeden Alters und jeder Figur geeignet. Keine Vorkenntnisse erforderlich.
Online stream
There is an online stream available for this activity. To participate, take the following steps:
This studio uses Zoom as their streaming provider to online stream their activities. Download the according software or app to your laptop, tablet or smartphone.
The access to the online stream is available 15 minutes before the start of the activity. You can find the link for the online stream in your online profile under "My bookings". With a click on "Join online stream now" you will be forwarded to the corresponding page and you join the activity online!
Specific streaming providers, e.g. Zoom, allow participants to see each other through the video camera. If you do not want to show yourself or the personal environment, you can deactivate the camera function or cover the camera. The name you enter when you join the online meeting room will be shown to other participants. However, you can change your name at any time (e.g. only specify the initials).
Trainer :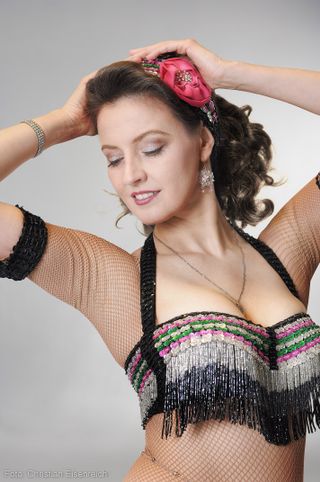 Hanan Kadur
Dates:
| | | | | |
| --- | --- | --- | --- | --- |
| 1. | 09/11/2020 | 19:00 - 20:00 | Falkstr. 72-74, 60487 Frankfurt | Hanan Kadur |
| 2. | 16/11/2020 | 19:00 - 20:00 | Falkstr. 72-74, 60487 Frankfurt | Hanan Kadur |
| 3. | 23/11/2020 | 19:00 - 20:00 | Falkstr. 72-74, 60487 Frankfurt | Hanan Kadur |
| 4. | 30/11/2020 | 19:00 - 20:00 | Falkstr. 72-74, 60487 Frankfurt | Hanan Kadur |
| 5. | 07/12/2020 | 19:00 - 20:00 | Falkstr. 72-74, 60487 Frankfurt | Hanan Kadur |
| 6. | 14/12/2020 | 19:00 - 20:00 | Falkstr. 72-74, 60487 Frankfurt | Hanan Kadur |
* All prices including VAT