Online: The Fan and Me with Eleen Kim
Online stream
Starts on Sunday, 01/11/2020
Price 110.00 €
Description:
Dive into the FCBD® Style ATS® technique and learn the Flamenco-flavored Fan Dialect! This prop dialect has been developed by the "Siren Project" by well-known artist Katarzyna Lidia from Warsaw, Poland.
The world of Tribal Style is very colorful and versatile. At the same time every dance and movement form preserves its original taste. Therefore we concentrate in this dance class on ...
...what exactly FCBD/ATS dance style is.
...how you can express yourself with FCBD/ATS dance style and communicate with your fellow dancers.
...how you can dance with an elegant fan in the context of the Fan Dialect.
The fan is not only a fun and joyful dance accessory, but also helps you to improve your FCBD style technique. From "basic four families" to modern steps we will review the FCBD® style and learn the fan steps including useful transition combinations.
Please bring a Flamenco fan (free size). The course is a open level course and will be taught in English.
Online stream
There is an online stream available for this activity. To participate, take the following steps:
This studio uses Zoom as their streaming provider to online stream their activities. Download the according software or app to your laptop, tablet or smartphone.
The access to the online stream is available 15 minutes before the start of the activity. You can find the link for the online stream in your online profile under "My bookings". With a click on "Join online stream now" you will be forwarded to the corresponding page and you join the activity online!
Specific streaming providers, e.g. Zoom, allow participants to see each other through the video camera. If you do not want to show yourself or the personal environment, you can deactivate the camera function or cover the camera. The name you enter when you join the online meeting room will be shown to other participants. However, you can change your name at any time (e.g. only specify the initials).
Trainer :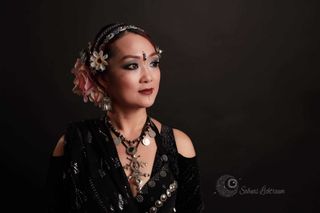 Eleen
Dates:
| | | | | |
| --- | --- | --- | --- | --- |
| 1. | 01/11/2020 | 17:00 - 18:00 | Falkstr. 72-74, 60487 Frankfurt | Eleen |
| 2. | 08/11/2020 | 17:00 - 18:00 | Falkstr. 72-74, 60487 Frankfurt | Eleen |
| 3. | 15/11/2020 | 17:00 - 18:00 | Falkstr. 72-74, 60487 Frankfurt | Eleen |
| 4. | 22/11/2020 | 17:00 - 18:00 | Falkstr. 72-74, 60487 Frankfurt | Eleen |
| 5. | 29/11/2020 | 17:00 - 18:00 | Falkstr. 72-74, 60487 Frankfurt | Eleen |
| 6. | 06/12/2020 | 17:00 - 18:00 | Falkstr. 72-74, 60487 Frankfurt | Eleen |
| 7. | 13/12/2020 | 17:00 - 18:00 | Falkstr. 72-74, 60487 Frankfurt | Eleen |
| 8. | 20/12/2020 | 17:00 - 18:00 | Falkstr. 72-74, 60487 Frankfurt | Eleen |
* All prices including VAT