Online: Welcome to FCBD®Style!
Online stream
Starts on Thursday, 04/03/2021
Price 60.00 €
Description:
Eleen will introduce you to the the art of American Tribal Style Dance, including the dancing posture, slow and fast movements, flowing Floreos, and the character of each movement.
No previous knowledge required. The course will be taught in English.
'FatChanceBellyDance®Style (formerly American Tribal Style®) is a modern, group improvisational style of belly dance created by Carolena Nericcio.
Carolena compiled a montage of different ethnic elements to create FCBD®Style with movements inspired by folkloric dances of the Middle East and India. Aesthetically FCBD®Style is based on the richness of textiles and jewelry from North Africa and India. FCBD®Style is a method of improvisational choreography, using a vocabulary of natural movements and cues allowing the dancers to communicate via gesture and eye contact when dancing together.'
Quelle: www.fcbd.com
Online stream
There is an online stream available for this activity. To participate, take the following steps:
This studio uses Zoom as their streaming provider to online stream their activities. Download the according software or app to your laptop, tablet or smartphone.
The access to the online stream is available 15 minutes before the start of the activity. You can find the link for the online stream in your online profile under "My bookings". With a click on "Join online stream now" you will be forwarded to the corresponding page and you join the activity online!
Specific streaming providers, e.g. Zoom, allow participants to see each other through the video camera. If you do not want to show yourself or the personal environment, you can deactivate the camera function or cover the camera. The name you enter when you join the online meeting room will be shown to other participants. However, you can change your name at any time (e.g. only specify the initials).
Trainer :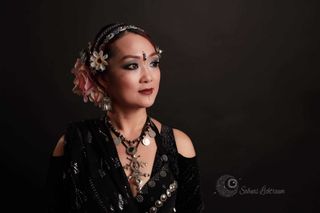 Eleen
Dates:
| | | | | |
| --- | --- | --- | --- | --- |
| 1. | 04/03/2021 | 17:15 - 18:15 | Falkstr. 72-74, 60487 Frankfurt | Eleen |
| 2. | 11/03/2021 | 17:15 - 18:15 | Falkstr. 72-74, 60487 Frankfurt | Eleen |
| 3. | 18/03/2021 | 17:15 - 18:15 | Falkstr. 72-74, 60487 Frankfurt | Eleen |
| 4. | 25/03/2021 | 17:15 - 18:15 | Falkstr. 72-74, 60487 Frankfurt | Eleen |
| 5. | 01/04/2021 | 17:15 - 18:15 | Falkstr. 72-74, 60487 Frankfurt | Eleen |
* All prices including VAT