Online: Welcome to Bollywood Dance!
Online stream
Starts on Tuesday, 07/09/2021
Price 90.00 €
Description:
Im Bollywood-Kurs erwarten dich gute Laune und tolle Musik, zu der wir gemeinsam Bollywood-Basics lernen und unser Körpergefühl stärken. Mithilfe dieser Basics werden wir in der Lage sein, uns passend zu Bollywood-Songs zu bewegen.
Während unseres Kurses werden wir schrittweise und mit jeder Stunde aufbauend, eine Choreografie entwickeln. Also sei gespannt und lass uns zusammen mit ganz viel Spaß, den Bollywood-Tanz näher kennenlernen.
Und keine Sorge, Bollywood kann jeder lernen - wir müssen uns nur trauen!
Online stream
There is an online stream available for this activity. To participate, take the following steps:
This studio uses Zoom as their streaming provider to online stream their activities. Download the according software or app to your laptop, tablet or smartphone.
The access to the online stream is available 15 minutes before the start of the activity. You can find the link for the online stream in your online profile under "My bookings". With a click on "Join online stream now" you will be forwarded to the corresponding page and you join the activity online!
Specific streaming providers, e.g. Zoom, allow participants to see each other through the video camera. If you do not want to show yourself or the personal environment, you can deactivate the camera function or cover the camera. The name you enter when you join the online meeting room will be shown to other participants. However, you can change your name at any time (e.g. only specify the initials).
Trainer :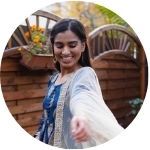 Chanchal
In Deutschland bin ich geboren und aufgewachsen und fühle mich hier zuhause. Dennoch bin ich meinen indischen Wurzeln sehr nahe, da ich den Tanz, die Kultur, die Kleidung, die Farben, die Sprachen, die Filme, die Musik, das Essen und und und liebe und lebe. Diese Lebensfreude und Positivität möchte ich mit euch im Bollywood-Tanz teilen.
Dates:
| | | | | |
| --- | --- | --- | --- | --- |
| 1. | 07/09/2021 | 20:00 - 21:00 | Falkstr. 72-74, 60487 Frankfurt | Chanchal |
| 2. | 14/09/2021 | 20:00 - 21:00 | Falkstr. 72-74, 60487 Frankfurt | Chanchal |
| 3. | 21/09/2021 | 20:00 - 21:00 | Falkstr. 72-74, 60487 Frankfurt | Chanchal |
| 4. | 28/09/2021 | 20:00 - 21:00 | Falkstr. 72-74, 60487 Frankfurt | Chanchal |
| 5. | 05/10/2021 | 20:00 - 21:00 | Falkstr. 72-74, 60487 Frankfurt | Chanchal |
| 6. | 12/10/2021 | 20:00 - 21:00 | Falkstr. 72-74, 60487 Frankfurt | Chanchal |
| 7. | 19/10/2021 | 20:00 - 21:00 | Falkstr. 72-74, 60487 Frankfurt | Chanchal |
* All prices including VAT