FCBD® STYLE Flashmob World Wide - Training with Eleen Kim
Starts on Saturday, 25/09/2021
Price 60.00 €
Description:
In this intensive workshop we will learn how to perform at the 2021 FCBD® Flashmob worldwide.
After a year of pandemic, we need time and training to dance in a group again and perform in a better way.
We will prepare the official music for 2021 'Ya Ein Moulayetin Dayanisma Edit' plus a second music for this year flashmob performance to present in the Frankfurt area.
The Flashmob itself will take place on October 9th in Frankfurt-Bockenheim. You are invited to take part with Eleen, our students and the Frankfurt FCBD® community!
Workshop and flashmob participants need basic FCBD® knowledge.
What to bring: finger cymbals, long skirt, comfortable training clothes
Please notice: We invite you to join the workshop for a better performance and preparation. You are also welcome at Flashmob day to dance with us without participating in this workshop. But please inform us before the Flashmob, so we can plan this event. Thank you!
Sign in for Flashmob day: https://www.eversports.de/widget/w/28sr4s?event=328561&type=event
Trainer :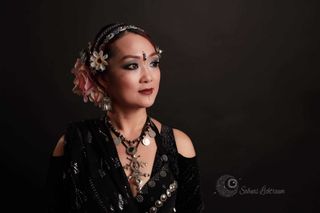 Eleen
Dates:
| | | | | |
| --- | --- | --- | --- | --- |
| 1. | 25/09/2021 | 14:00 - 18:00 | Falkstr. 72-74, 60487 Frankfurt | Eleen |
* All prices including VAT