Online: Tanzen wie die Stars - Vintage pur!
Online stream
Starts on Sunday, 16/01/2022
Price from 20.00 €
Description:
In dieser Workshopreihe wirst du Taheya Carioka, Samia Gamal, Naima Akef, Kitty Fotsaty, Nagua Fouad, Suhair Zaki, Nadia Gamal und Fifi Abdo, Größen des Orientalischen Tanzes der vergangenen Jahrzehnte, kennen und lieben lernen!
An jedem Workshoptermin beschäftigen wir uns mit einer dieser Tänzerinnen intensiv. Wir erfahren mehr über ihr Leben, erkunden, was sie einzigartig und erfolgreich gemacht hat, und widmen uns ihrer Tanztechnik. Wir lernen ihre typische Bewegungen und üben sie, so dass du dein tänzerisches Repertoire erweitern kannst.
Jede dieser Tänzerinnen war einzigartig, kreativ und innovativ - von ihnen zu lernen wird deinen tänzerischen Horizont erweitern!
Bitte beachte, dass du vor jedem Termin eine vorbereitende Hausaufgabe erhältst (zusätzlicher Zeitbedarf pro Termin: ca. 30min).
Empfohlenes Level: Taheya, Samia, Naima und Kitty - ab Mittelstufe 1 (M1), Nagua, Suhair, Nadia und Fifi ab leicht Fortgeschrittene (F1).
Die Workshops werden aufgezeichnet und dir zum Nacharbeiten zur Verfügung gestellt.
Online stream
There is an online stream available for this activity. To participate, take the following steps:
This studio uses Zoom as their online streaming provider. Download the according app to your laptop, tablet or smartphone
Access to the online livestream is available 15 minutes before the start of the activity. Simply go to "My bookings" and click on "Join online stream now" to be redirected to the corresponding page
With some streaming providers (e.g. Zoom) it is possible for participants to see each other. However, it is theoretically possible to deactivate the camera function. The name you enter when entering the online meeting room is displayed to other participants. However, you can always change your name (e.g. only the initials). Please note: Individual rules for online participation may apply for each class or venue.
Trainer :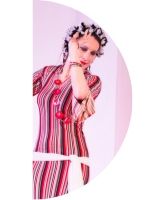 Melanie
Dates:
| | | | | |
| --- | --- | --- | --- | --- |
| 1. | 16/01/2022 | 16:00 - 18:00 | Falkstr. 72-74, 60487 Frankfurt | Melanie |
| 2. | 30/01/2022 | 16:00 - 18:00 | Falkstr. 72-74, 60487 Frankfurt | Melanie |
| 3. | 13/02/2022 | 16:00 - 18:00 | Falkstr. 72-74, 60487 Frankfurt | Melanie |
| 4. | 27/02/2022 | 16:00 - 18:00 | Falkstr. 72-74, 60487 Frankfurt | Melanie |
| 5. | 13/03/2022 | 16:00 - 18:00 | Falkstr. 72-74, 60487 Frankfurt | Melanie |
| 6. | 27/03/2022 | 16:00 - 18:00 | Falkstr. 72-74, 60487 Frankfurt | Melanie |
| 7. | 10/04/2022 | 16:00 - 18:00 | Falkstr. 72-74, 60487 Frankfurt | Melanie |
| 8. | 24/04/2022 | 16:00 - 18:00 | Falkstr. 72-74, 60487 Frankfurt | Melanie |
* All prices including VAT