Online: Rundum fit mit Orientalischem Tanz
Online stream
Starts on Thursday, 06/01/2022
Price 80.00 €
Description:
In diesen Stunden geht es zwar auch ums Tanzen, aber mehr noch um das Training, die Beweglichkeit, das Dehnen und Entspannen unseres Körpers rund um ein Stundenmotto.
10.02.22 Beckenboden (harte Sitzfläche, Matte)
17.02.22 Tanzende Füße
24.02.22 Bauch-Beine-Po
Melanie stellt für euch die passenden Bauchtanzbewegungen und Variationen zusammen, wir kräftigen und fördern die Beweglichkeit, nutzen Hilfsmittel und Bewegungen jenseites des Orientalischen Tanzes, um uns als Tänzerinnen besser aufzustellen und die Mittagspause in Bewegung und Entspannung zu verbringen.
Einen Teil der Stunde verbringen wir außerdem auf der Matte, um die Bewegungen dort zu vertiefen.
Wir gehen intuitiv vor, spüren in uns rein, und du nutzt überwiegend dein vorhandes Bewegungsrepertoire. Aber ich verspreche dir, dass du Neues lernen und deine Bewegungsqualität im Tanz verbessern wirst.
Diese Stunden richten sich an Frauen jeden Levels. Wehwehchen sind kein Problem, solange sie zulassen, dass du auf der Matte liegen, sitzen und in den Vierfüßlerstand gehen kannst.
Du benötigst: eine Matte und/oder eine Wolldecke, einen Yoga-Gurt (ein Gürtel oder ein längeres Halstuch tun es auch), etwas zu Trinken, rutschfesten Boden/Socken/barfuß, gerne ein schlichtes Tuch für die Hüften, das du schnell ausziehen kannst.
Buchung mit Vertrag oder Karte auch über 'Klassen' im Stundenplan möglich!
Online stream
There is an online stream available for this activity. To participate, take the following steps:
This studio uses Zoom as their online streaming provider. Download the according app to your laptop, tablet or smartphone
Access to the online livestream is available 15 minutes before the start of the activity. Simply go to "My bookings" and click on "Join online stream now" to be redirected to the corresponding page
With some streaming providers (e.g. Zoom) it is possible for participants to see each other. However, it is theoretically possible to deactivate the camera function. The name you enter when entering the online meeting room is displayed to other participants. However, you can always change your name (e.g. only the initials). Please note: Individual rules for online participation may apply for each class or venue.
Trainer :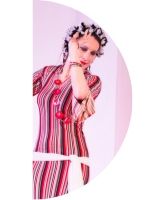 Melanie
Dates:
| | | | | |
| --- | --- | --- | --- | --- |
| 1. | 06/01/2022 | 12:00 - 13:00 | Falkstr. 72-74, 60487 Frankfurt | Melanie |
| 2. | 13/01/2022 | 12:00 - 13:00 | Falkstr. 72-74, 60487 Frankfurt | Melanie |
| 3. | 20/01/2022 | 12:00 - 13:00 | Falkstr. 72-74, 60487 Frankfurt | Melanie |
| 4. | 27/01/2022 | 12:00 - 13:00 | Falkstr. 72-74, 60487 Frankfurt | Melanie |
| 5. | 03/02/2022 | 12:00 - 13:00 | Falkstr. 72-74, 60487 Frankfurt | Melanie |
| 6. | 10/02/2022 | 12:00 - 13:00 | Falkstr. 72-74, 60487 Frankfurt | Melanie |
| 7. | 17/02/2022 | 12:00 - 13:00 | Falkstr. 72-74, 60487 Frankfurt | Melanie |
| 8. | 24/02/2022 | 12:00 - 13:00 | Falkstr. 72-74, 60487 Frankfurt | Melanie |
* All prices including VAT