Im Studio: Welcome to FatChanceBellyDance® (FCBD®)!
Starts on Tuesday, 11/01/2022
Price 85.00 €
Description:
Eleen will introduce you to the the art of FatChanceBellyDance®, a transcultural dance fusion with elements of Oriental and Indian Dances, Flamenco and Folklore, including the typical elegant and powerful dancing posture, slow and fast movements and improvising together.
No previous knowledge required. The course will be taught in English.
Trainer :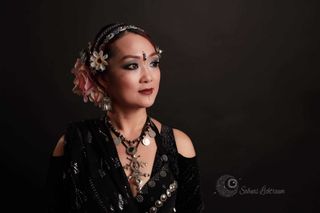 Eleen
Dates:
| | | | | |
| --- | --- | --- | --- | --- |
| 1. | 11/01/2022 | 19:30 - 20:45 | Falkstr. 72-74, 60487 Frankfurt | Eleen |
| 2. | 18/01/2022 | 19:30 - 20:45 | Falkstr. 72-74, 60487 Frankfurt | Eleen |
| 3. | 25/01/2022 | 19:30 - 20:45 | Falkstr. 72-74, 60487 Frankfurt | Eleen |
| 4. | 01/02/2022 | 19:30 - 20:45 | Falkstr. 72-74, 60487 Frankfurt | Eleen |
| 5. | 08/02/2022 | 19:30 - 20:45 | Falkstr. 72-74, 60487 Frankfurt | Eleen |
| 6. | 15/02/2022 | 19:30 - 20:45 | Falkstr. 72-74, 60487 Frankfurt | Eleen |
| 7. | 22/02/2022 | 19:30 - 20:45 | Falkstr. 72-74, 60487 Frankfurt | Eleen |
* All prices including VAT