Im Studio: FCBD® Year End Workshop & Party
Starts on Sunday, 12/12/2021
Price from 30.00 €
Description:
14:00 -16:30 - Back to Old School with Headwrap
At the end of the year let's go back to old school times of FCBD®!
This workshop will introduce some faded old and classic steps. We will also learn the headwrap skills to discover the classic flavour .
Please bring unless 2 long scarfs, shawls or fabric, flowers, and jewelleries. We recommend cotton or linen, not too slippy fabric like silk.
For FCBD® dancers of all levels!
After the workshops all regular FCBD® students from OT pur and workshop participants are invited to join our small FCBD® Christmas Party (17:00-20:00) - Please bring something to eat and to drink, props and music, that you like. We can also do a FCBD® second hand bazar.
If you want to perform a solo or group dance, please contact Melanie (melanie@ot-pur.de).
Trainer :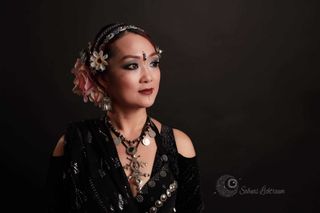 Eleen
Dates:
| | | | | |
| --- | --- | --- | --- | --- |
| 1. | 12/12/2021 | 14:00 - 16:30 | Falkstr. 72-74, 60487 Frankfurt | Eleen |
| 2. | 12/12/2021 | 17:00 - 20:00 | Falkstr. 72-74, 60487 Frankfurt | not specified |
* All prices including VAT