FCBD® Performance Projects with Eleen
Starts on Sunday, 18/09/2022
Price from 110.00 €
Description:
Project 1: Basket & FCBD® Style
With head wrap and earthy look, let's celebrate the fall with the full of the harvest! You will need fundamental Basket Dialect knowledge. We will use our Baskets, Zills and Skirts to rock the stage!
Level: middle to advanced level students and dancers (not only of OT pur)
Project 2: FCBD® Style
We want to create the women's circle to present the mystery, beauty, strength and the power of women.
Level: students (not only of OT pur) with basic FCBD® knowledge, but also open for all FCBD® Style dancers
Diese Showprojekte richtet sich an ambitionierte Tanzschülerinnen (nicht nur des OT pur), die Lust haben, diese Performances in der Gruppe auf unserer Werkschau am 15.10.22 in der Frankfurter Brotfabrik aufzuführen.
Bitte beachte: Die Teilnahme an jeweils beiden Terminen eines Projektes ist verbindlich, wenn Du auftreten möchtest. Die Performance muss zu Hause nachgearbeitet und geübt werden. Über deinen Auftritt entscheidet letztendlich die Dozentin. Außerdem solltest du bereit sein, in Absprache mit der Dozentin Kostüm/Kostümteile zu kaufen/herzustellen.
Trainer :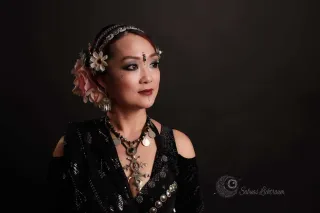 Eleen
I'm Chinese Korean and living in Frankfurt. During my professional interpreter career (Korean and Chinese) in Shenzhen China, I discovered the ATS dance style in Beijing in 2010 and just nonstop into this fabulous intercultural dancing road. I love the concept, tolerance and connection in the FCBD®style to present the power of the woman's beauty. I continue to study with important experts from all over the world. In 2016, I created "The Tribal Bridge China Dance Association" to undertake to organize the FCBD® international festival in Shenzhen, China. I am honored to become the first Siren project dialect representative and ambassador oversea and FCBD Certified sister studio 2022.
Dates:
| | | | | |
| --- | --- | --- | --- | --- |
| 1. | 18/09/2022 | 12:00 - 15:00 | Falkstr. 72-74, 60487 Frankfurt | Eleen |
| 2. | 18/09/2022 | 16:00 - 19:00 | Falkstr. 72-74, 60487 Frankfurt | Eleen |
| 3. | 01/10/2022 | 12:00 - 15:00 | Falkstr. 72-74, 60487 Frankfurt | Eleen |
| 4. | 01/10/2022 | 16:00 - 19:00 | Falkstr. 72-74, 60487 Frankfurt | Eleen |
* All prices including VAT