Vorbereitung auf das DTSA-OT Silber
Online stream
Starts on Sunday, 12/02/2023
Price from 30.00 €
Description:
Du hast schon das DTSA-OT in Bronze abgelegt?
Dann starte mit dem DTSA-Workshops und lerne die vier Choreografien, die für das Deutsche Tanzsportabzeichen Orientalischer Tanz in Silber gefordert werden!
Die DTSA-Workshops sind für alle Frauen im Orientalischen Tanz gedacht, die Lust auf eine kleine Herausforderung haben und schon das Abzeichen in Bronze abgelegt haben.
Die DTSA-Abnahme findet am 30.04.23 im Darmstädter Raum statt. Die Teilnehmerinnen werden dort dann gemeinsam als Gruppe die geforderten Tänze in Trainingskleidung präsentieren. Die Anmeldegebühr zur DTSA-Abnahme ist nicht im Workshoppreis enthalten (ca. 10 Euro).
Die Workshops sind einzeln buchbar, aber für die Teilnahme an der Abnahme musst du bitte alle fünf Workshops buchen (und auch noch etwas Zeit zum Üben zu Hause einplanen). Bis auf den letzten Trainingstermin finden alle Choreografie-Workshops auch online statt.
Wusstest du, dass viele Krankenkassen das Engagement, ein Sportabzeichen abzulegen, belohnen? Frag an Besten gleich bei deiner Krankenkasse nach!
Online stream
There is an online stream available for this activity. To participate, take the following steps:
This studio uses Zoom as their online streaming provider. Download the according app to your laptop, tablet or smartphone
Access to the online livestream is available 15 minutes before the start of the activity. Simply go to "My bookings" and click on "Join online stream now" to be redirected to the corresponding page
With some streaming providers (e.g. Zoom) it is possible for participants to see each other. However, it is theoretically possible to deactivate the camera function. The name you enter when entering the online meeting room is displayed to other participants. However, you can always change your name (e.g. only the initials). Please note: Individual rules for online participation may apply for each class or venue.
Trainer :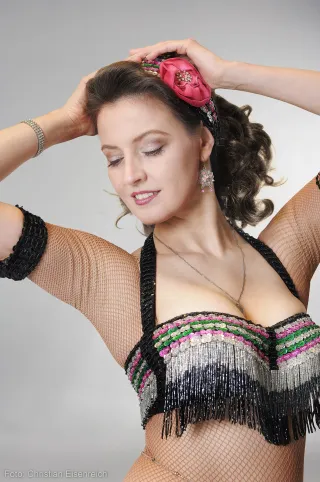 Hanan Kadur
Mein Weg führte über Folkloretänze und Modern Dance, später Jazzdance und Ausdruckstanz, Gardetanz und Schautanz bis zum Ballettunterricht und schlussendlich zum Orientalischen Tanz. Seit 2008 gebe ich im OT pur mein Wissen und meine Leidenschaft für den orientalischen Tanz an meine Kursteilnehmerinnen weiter. Dabei liegen mir deine die Gesundheit und die Freude am Tanz sehr am Herzen. Im OT pur unterrichte ich überwiegend Anfängerinnen und Anfängerinnen mit Vorkenntnissen.
Dates:
| | | | | |
| --- | --- | --- | --- | --- |
| 1. | 12/02/2023 | 16:00 - 18:00 | Falkstr. 72-74, 60487 Frankfurt | Hanan Kadur |
| 2. | 26/02/2023 | 16:00 - 18:00 | Falkstr. 72-74, 60487 Frankfurt | Hanan Kadur |
| 3. | 12/03/2023 | 16:00 - 18:00 | Falkstr. 72-74, 60487 Frankfurt | Hanan Kadur |
| 4. | 26/03/2023 | 16:00 - 18:00 | Falkstr. 72-74, 60487 Frankfurt | Hanan Kadur |
| 5. | 23/04/2023 | 16:00 - 18:00 | Falkstr. 72-74, 60487 Frankfurt | Hanan Kadur |
* All prices including VAT