Hybrid: Welcome to Bellydance!
Online stream
Starts on Wednesday, 18/01/2023
Price from 80.00 €
Description:
Dieser Kurs findet hybrid statt, d.h., du entscheidest an jedem Termin ggf. spontan, ob du in der Tanzschule oder online von zu Hause aus teilnehmen möchtest. Mit deiner Anmeldung erhältst Du automatisch den Zugang zur Online-Teilnahme.
Dieser Einführungskurs in den Orientalischen Tanz (Bauchtanz) richtet sich an Frauen ohne oder mit geringen Vorkenntnissen, an Wiedereinsteigerinnen und alle, die an ihren Basis arbeiten möchten.
Orientalischer Tanz / Bauchtanz ist ein exotischer, ungewöhnlich weiblicher Tanzstil, mit dem frau ganz nebenbei etwas für die Gesundheit tun kann. Ein tolles Angebot für alle, die Spaß am Tanzen haben, neugierig auf Unbekanntes sind, sich für andere Kulturen interessieren, Weltmusik lieben, Sinnlichkeit und die eigene Weiblichkeit entdecken wollen. Es ist ein sanftes Rücken- und Beckenbodentraining und schön anzusehen.
Kursinhalte:
Basisbewegungen des Beckens und des Oberkörpers sowie einfache Schritte geben dir einen Einblick in den Orientalischen Tanz und unseren Unterricht. Du wirst im Laufe des Kurses erste Verbesserungen deiner Haltung feststellen können. Und durch kleine Kombinationen das Gefühl haben, erste Tanzschritte zu wagen. Gewürzt mit etwas Hintergrundinformationen zum Tanzstil und viel Humor nehmen wir dir die Scheu, beim Orientalischen Tanz ganz du selbst zu sein.
Online stream
There is an online stream available for this activity. To participate, take the following steps:
This studio uses Zoom as their online streaming provider. Download the according app to your laptop, tablet or smartphone
Access to the online livestream is available 15 minutes before the start of the activity. Simply go to "My bookings" and click on "Join online stream now" to be redirected to the corresponding page
With some streaming providers (e.g. Zoom) it is possible for participants to see each other. However, it is theoretically possible to deactivate the camera function. The name you enter when entering the online meeting room is displayed to other participants. However, you can always change your name (e.g. only the initials). Please note: Individual rules for online participation may apply for each class or venue.
Trainer :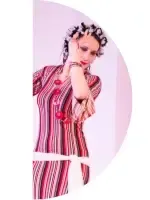 Melanie
"Ich muss dringend etwas für mich tun. Ich mag mich aber nicht nur gesund, sondern vor allem auch schön bewegen." Das waren vor über 25 Jahren die Gründe für mich, einen Bauchtanzkurs zu besuchen. Sport war nie mein Thema, aber Rückenschmerzen zwangen mich in jungen Jahren zum Handeln - und brachten mich zum Orientalischen Tanz. Mein Schwerpunkt als Dozentin ist gesundheitsbewußter Bauchtanzunterricht unter Berücksichtigung methodischer und didaktischer sowie sportmedizinischer Gesichtspunkte. Ich möchte dich individuell fördern und unterrichte sowohl den ägyptischen Stil des orientalischen Tanzes, als auch orientalische Fantasytänze. Im OT pur unterrichte ich Anfänger bis weit Fortgeschrittene im Orientalischen Tanz.
Dates:
| | | | | |
| --- | --- | --- | --- | --- |
| 1. | 18/01/2023 | 17:15 - 18:15 | Falkstr. 72-74, 60487 Frankfurt | Melanie |
| 2. | 25/01/2023 | 17:15 - 18:15 | Falkstr. 72-74, 60487 Frankfurt | Melanie |
| 3. | 01/02/2023 | 17:15 - 18:15 | Falkstr. 72-74, 60487 Frankfurt | not specified |
| 4. | 08/02/2023 | 17:15 - 18:15 | Falkstr. 72-74, 60487 Frankfurt | not specified |
| 5. | 15/02/2023 | 17:15 - 18:15 | Falkstr. 72-74, 60487 Frankfurt | not specified |
| 6. | 22/02/2023 | 17:15 - 18:15 | Falkstr. 72-74, 60487 Frankfurt | not specified |
| 7. | 01/03/2023 | 17:15 - 18:15 | Falkstr. 72-74, 60487 Frankfurt | not specified |
| 8. | 08/03/2023 | 17:15 - 18:15 | Falkstr. 72-74, 60487 Frankfurt | not specified |
* All prices including VAT