Im Studio: FCBD® Skirt Group Performance Project with Eleen
Starts on Saturday, 27/05/2023
Price from 60.00 €
Description:
Feel the Summer Breeze with Your Skirt!
Are you ready to embrace the spirit of summer and ignite the season at the spectacular event "Tanz durch den Orient" in Pohlheim/Gießen?
Join us for an enchanting experience that promises a vibrant stage, captivating performances by renowned dancers and emerging talents, mouthwatering cuisine, engaging workshops, and a bustling bazaar - an extraordinary opportunity for dancers like you!
Together with the talented Eleen, we will craft a mesmerizing performance that will leave the audience spellbound. Here's a glimpse of what to expect during our two-day preparation:
Day 1: Immerse yourself in the unique Skirt Dialect, blending flamenco gypsy-inspired steps and drills with formations inspired by FCBD® Style, Devi Mamak steps, Gudrun Herold, Siren Project, and Eleen's personal touch.
Day 2: We'll refine our performance, discussing costume choices, formation groups, and most importantly, reveling in the joy of dancing together.
Requirements: Basic knowledge of FCBD® Style is recommended. What to bring: 25-30 yard skirt, a water bottle, and your unwavering passion for dance.
Performance Date: June 3rd, 2023
Performance Venue: Volkshalle Watzenborn-Steinberg (near Gießen)
Come and join us on this exhilarating journey, where the beauty of dance intertwines with the vibrancy of summer. Be part of an unforgettable celebration of culture, artistry, and joy. Reserve your spot now, and let your skirt gracefully swirl through the air as we create magic together!

Diese Workshops finden ausschließlich in Präsenz im Studio statt. Der erste Workshoptag kann einzeln gebucht werden.
Trainer :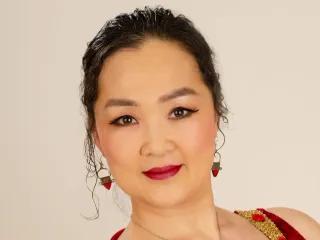 Eleen
I'm Chinese Korean and living in Frankfurt. During my professional interpreter career (Korean and Chinese) in Shenzhen China, I discovered the ATS dance style in Beijing in 2010 and just nonstop into this fabulous intercultural dancing road. I love the concept, tolerance and connection in the FCBD®style to present the power of the woman's beauty. I continue to study with important experts from all over the world. In 2016, I created "The Tribal Bridge China Dance Association" to undertake to organize the FCBD® international festival in Shenzhen, China. I am honored to become the first Siren project dialect representative and ambassador oversea and FCBD Certified sister studio 2022.
Dates:
| | | | | |
| --- | --- | --- | --- | --- |
| 1. | 27/05/2023 | 15:00 - 18:00 | Falkstr. 72-74, 60487 Frankfurt | Eleen |
| 2. | 28/05/2023 | 13:00 - 16:00 | Falkstr. 72-74, 60487 Frankfurt | Eleen |
| 3. | 03/06/2023 | 13:00 - 15:00 | Falkstr. 72-74, 60487 Frankfurt | Eleen |
* All prices including VAT