Showprojekt: Voice of Women - open level
Starts on Tuesday, 03/10/2023
Description:
Eleen is prepared to present a remarkable song for our FCBD Show project!
Together, we will delve into the dynamic methods of crafting this song, showcasing how women can collaborate to express the powerful attributes of strength, grace, independence, and love that define womanhood.
We will dance and undulate in the distinctive FCBD style, leaving our audiences in awe. With the incorporation of FCBD techniques and drills, we aim to captivate and inspire.

Eleen wird mit euch an diesem Termin einen Tanz für unsere Werkschau am 05.11.23 in der Brotfabrik Frankfurt einstudieren.
Ein Kostüm für diesen Tanz muss angeschafft werden. Die Teilnahme an diesem Termin, der Generalprobe am Tag der Aufführung sowie der Auftritt in unserer Show sind verpflichtend. Die Termine finden ausschließlich im Studio statt.
Du musst bereit sein, auch zu Hause zu üben - eine Teilnahme am Showprojekt bedeutet nicht automatisch, dass du in der Show mittanzen kannst. Die Entscheidung darüber obliegt der Dozentin.
Level: open level, alle Tanzrichtungen
Bitte bringe Zimbeln mit, sofern du Zimbelerfahrung hast.
Trainer :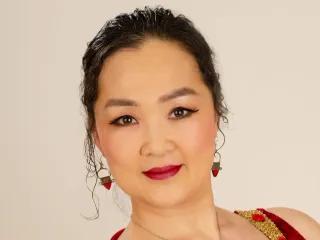 Eleen
I'm Chinese Korean and living in Frankfurt. During my professional interpreter career (Korean and Chinese) in Shenzhen China, I discovered the ATS dance style in Beijing in 2010 and just nonstop into this fabulous intercultural dancing road. I love the concept, tolerance and connection in the FCBD®style to present the power of the woman's beauty. I continue to study with important experts from all over the world. In 2016, I created "The Tribal Bridge China Dance Association" to undertake to organize the FCBD® international festival in Shenzhen, China. I am honored to become the first Siren project dialect representative and ambassador oversea and FCBD Certified sister studio 2022.
Dates:
| | | | | |
| --- | --- | --- | --- | --- |
| 1. | 03/10/2023 | 15:00 - 18:00 | Falkstr. 72-74, 60487 Frankfurt | Eleen |
* All prices including VAT