LIVESTREAM: KOSTENLOSE INFO-SESSION ZUR 200 STD. (ONLINE) YOGALEHRER AUSBILDUNG
Online stream
Starts on Sunday, 24/10/2021
Description:
Du möchtest Yogalehrer/in werden? Dann mache bei der kostenlosen Info-Session zur Yogalehrer Ausbildung den nächsten Step!
Unsere (Frühjahr) Yogalehrer Ausbildung (200 Std.) & Intensive Training (120 Std.) findet vom 14.01.2022 – 29.05.2022 statt! Wer noch flexibler sein möchte, für den ist die ONLINE YOGALEHRER AUSBILDUNG (200 Std.) genau richtig!
Voraussetzung für unsere Yoga Ausbildungen sind Spaß, Freude und der aufrichtige Wunsch seine Yogapraxis zu vertiefen. Unser erfahrenes Lehrerteam wird Dich auf einer Reise zu Dir selbst begleiten, mit Dir die vielfältigen Aspekte des Yoga entdecken und Dein Leben bereichern.
Durch Asana, Selbsterforschung, Gruppendiskussionen und Studieren der Yoga Philosophie (Yoga-Sutren) wirst Du Fähigkeiten in Dir entdecken, die Dich ein Leben lang inspirieren werden.
Kläre mit Dirk Bennewitz Deine offenen Fragen zu unseren Yogalehrer Ausbildungen! Wer vorher Yoga machen möchte, kann sich auch für die Teacher Training Masterclass am 24.10.2021 von 18:00 - 19:00 Uhr (siehe Kursplan) anmelden.
Online stream
There is an online stream available for this activity. To participate, take the following steps:
This studio uses Zoom as their online streaming provider. Download the according app to your laptop, tablet or smartphone
Access to the online livestream is available 15 minutes before the start of the activity. Simply go to "My bookings" and click on "Join online stream now" to be redirected to the corresponding page
With some streaming providers (e.g. Zoom) it is possible for participants to see each other. However, it is theoretically possible to deactivate the camera function. The name you enter when entering the online meeting room is displayed to other participants. However, you can always change your name (e.g. only the initials). Please note: Individual rules for online participation may apply for each class or venue.
Teacher :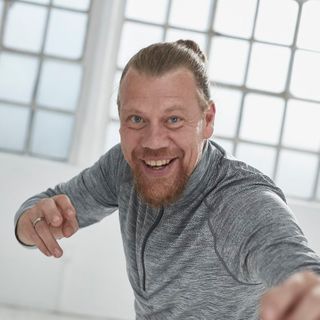 Dirk Bennewitz
Hallo, ich bin Dirk Bennewitz. Ich möchte mit meinem Yoga-Unterricht, meinen Büchern, DVD´s und Online-Kursen dazu beitragen, Deine Ausgeglichenheit, Fitness und Gesundheit zu verbessern! In meiner gesamten Familie wurde seit Anfang der 1960er Jahre Aikido, eine aus Japan stammende Kampfkunst, betrieben. Dadurch bin ich in einer für östliche Philosophie und Denkweise offenen Atmosphäre aufgewachsen. Die Prinzipien von Frieden und Gewaltlosigkeit haben mich ganz natürlich umgeben – es war für mich selbstverstänlich im Alter von 8 Jahren mit Aikido zu beginnen und ich habe bis heute nicht damit aufgehört. Mit Yoga kam ich erstmals in den 90er Jahren in Berührung. Meine Frau, Andrea Kubasch, hat mich zu einer Yoga Stunde mitgenommen und mir war recht schnell klar, das hier mit ähnlichen Energien gearbeitet wird wie im Kampfsport – ich war sofort fasziniert davon. In dieser Zeit habe ich im weltweiten Personenschutz für Popstars, Models und Schauspieler gearbeitet, da war Yoga ein willkommener Ausgleich für den hektischen und stressigen Alltag. Mittlerweile stehe ich auch mit vielen prominenten Kunden auf der Yogamatte und unterrichte sie. Seit der Gründung von Power Yoga Institute im Jahre 2003 bin ich Leiter der Studios, unterrichte dort unsere Kurse, Workshops und Lehrerausbildungen (Yoga Teacher Trainings). Dabei ist es mir wichtig, Yoga als eine bodenständige, fröhliche und zugleich inhaltsreiche Kunst zu vermitteln, die den Menschen hilft, sich zu entwickeln. Ganz nebenbei wird man dabei auch noch fitter, schlanker und gesünder. Meine größten Inspirationen im Yoga sind Bryan Kest (Begründer Power Yoga) und Paul Grilley (Begründer Yin Yoga). Ich freue mich, wenn wir uns auf der Matte sehen!
Dates:
| | | | | |
| --- | --- | --- | --- | --- |
| 1. | 24/10/2021 | 19:00 - 20:00 | Bei Dir Zuhause, | Dirk Bennewitz |
* All prices including VAT