Free Online Live Yoga-Workshop – Kopfstand-Yoga-Sequenz
Online stream
Starts on Friday, 29/01/2021
Description:
In dieser Umkehrhaltungs-Sequenz mit Leonie wirst du dich systematisch auf die fortgeschrittene Asana des Kopfstands vorbereiten. Sie gehört zu den traditionellen Meisterposen und hat viele Benefits. Der Kopfstand spricht dein parasympatisches Nervensystem an, hilft dir, die Welt mit anderen Augen zu sehen, und sie macht deinen Geist weit und frei und ist damit eine ideale Vorbereitung auf die Meditation.
Was erwartet dich? eine vollständige Yoga-Einheit, in der du den Kopfstand lernen kannst.
In Zeiten der Krise, in Zeiten in der viel Angst genährt wird, ist es umso wichtiger sich immer wieder bewusst zu werde, dass wir alle in einem Boot sitzen, das wir alle auf einer Welt zusammen Leben. Jetzt geht es nicht darum Grenzen zu bauen und andere zu verurteilen. Jetzt geht es darum Brücken zu bauen und andere zu sehen, um ihnen die Hand zu reichen und zu sagen: ich bin da für dich! Wir vom Cityoga haben uns gefragt was wir für dich tun können, wie wir dir zeigen können dass wir dich sehen und für dich da sind. Wir haben uns gefragt was wir am besten können: Yoga! Und so möchten wir unser Yoga mit dir teilen. Dieser Workshop ist kostenlos du kannst dich einfach mit diesem Link über Eversports mit uns verbinden.
Wann: Freitag 29. Januar 18- 19:30 Uhr Anmeldung: Eversports Cityoga Darmstadt
Online stream
There is an online stream available for this activity. To participate, take the following steps:
This studio uses Zoom as their streaming provider to online stream their activities. Download the according software or app to your laptop, tablet or smartphone.
The access to the online stream is available 15 minutes before the start of the activity. You can find the link for the online stream in your online profile under "My bookings". With a click on "Join online stream now" you will be forwarded to the corresponding page and you join the activity online!
Specific streaming providers, e.g. Zoom, allow participants to see each other through the video camera. If you do not want to show yourself or the personal environment, you can deactivate the camera function or cover the camera. The name you enter when you join the online meeting room will be shown to other participants. However, you can change your name at any time (e.g. only specify the initials).
Teacher :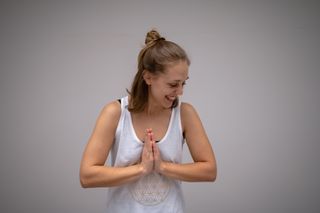 Leonie
Tauche mit Leonie in eine fließende und kraftvolle Yoga Praxis, die Dich immer wieder ins Hier und Jetzt bringt. Leonie führt Dich dabei durch kreative Flows ebenso wie in tiefe Dehnung und Meditationen. Lass Dich von Deinem Atem tragen und Dich mit Freude und Neugier immer wieder aus Deiner Komfortzone bringen. Und wenn Du dabei einmal deine Balance verlierst, schenk Dir einfach ein Lachen. Leonis Yoga Unterricht ist voller innerer Ruhe und Kraft. Sie begleiten dich warmherzig und fundiert durch deine Yoga Praxis. Leonie unterrichtet Ashtanga, Vinyasa, Hatha und Yin Yoga.
Dates:
| | | | | |
| --- | --- | --- | --- | --- |
| 1. | 29/01/2021 | 18:00 - 19:30 | Rheinstraße 22, 64283 Darmstadt | Leonie |
* All prices including VAT