Yang to Yin - Yoga & Ayurveda & ätherische Öle
Online stream
Starts on Saturday, 20/03/2021
Price 60.00 €
Description:
Du möchtest frühlingsfrisch in die neue Jahreszeit starten? Perfekt! Mit diesem Workshop erhältst du ayurvedische Inputs (auch als PDF) für die neue Jahreszeit. Natürlich mit ätherischen Ölen, du bekommst im Vorfeld eine von Bille kreierte Ölemischung zugesendet. Auch aus Sicht der TCM bekommst du wertvolle Anregungen für die Zeit des Holz Elements, die Zeit des kleinen Yang. So fließen wir nach unserem Talk durch einen Hatha Flow in dem du deine Körpermitte stärkst, dein Bauchgefühl nährst und mit sanften Twists dir mehr Raum schenkst und deine Frühlingspower erweckst. Der Yin Teil rundet die Praxis ab. Hier lernst du aus der Intensität des Yang wieder auszusteigen und in die Milde zu kommen. Die Praxis widmet sich den Körperinnen- & aussenseiten und kann dir dabei helfen, dich glücklicher und freudvoller zu fühlen.
Bille strahlt im wahrsten Sinne des Wortes Yoga aus. Sie ist eine Quelle der Inspiration. Von Yoga über Ayurveda bis hin zu ätherischen Ölen, sie teilt ihr Wissen auf freudige und leichte Art.
Was dich erwartet:
Ayurvedische Inputs zum Frühling
Tipps zur Ernährung
Die Jahreszeit im Jahresrad
Empfehlungen/ Anwendungen (auch als PDF)
Ein Hatha Flow und eine milde Yin Yoga Praxis mit Inputs aus der TCM
Eine von Bille kreierte Ölemischung per Post
Was du brauchst:
Deine Yogamatte, zwei Blöcke oder Bücher, ein Bolster, einen Yogagurt oder Bademantelgürtel/ unelastisches Tuch und eine Decke.
Energieausgleich:
für 150Minuten mit PDF: 60€
Ich freue mich sehr auf dich und dein Yoga!
Deine Bille
Online stream
There is an online stream available for this activity. To participate, take the following steps:
This studio uses Zoom as their streaming provider to online stream their activities. Download the according software or app to your laptop, tablet or smartphone.
The access to the online stream is available 15 minutes before the start of the activity. You can find the link for the online stream in your online profile under "My bookings". With a click on "Join online stream now" you will be forwarded to the corresponding page and you join the activity online!
Specific streaming providers, e.g. Zoom, allow participants to see each other through the video camera. If you do not want to show yourself or the personal environment, you can deactivate the camera function or cover the camera. The name you enter when you join the online meeting room will be shown to other participants. However, you can change your name at any time (e.g. only specify the initials).
Teacher :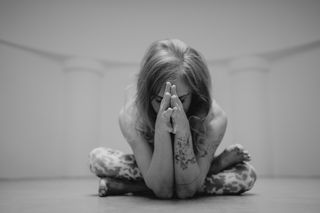 Bille
"Das Geburtsrecht eines jeden Menschen ist es, glücklich zu sein" Yogi Bhajan 1995 habe ich zum ersten Mal Yoga praktiziert. Es gefiel mir. Richtig verliebt in Yoga, die Bewegung in Körper & Geist habe ich mich 2013. Ich begann Steffis Kurse zu besuchen und schon bald war ich mitgerissen und immer wieder neugierig, auf die Matte zu kommen und mir wurde klar: Das ist mein Yoga. Mit dieser Inspiration habe ich eine Yogalehrerausbildung bei Ari Grünler im Schloss Weiler gemacht & unterrichte seit Ende 2017. Es ist wundervoll mit Yoga auf der Reise zu sein. Danke Steffi, für die Inspiration, immer wieder, für Deine Freundschaft & Dein Yoga, danke Ari, für Deine zauberhafte Begleitung, danke an alle wunderbaren Yogis auf diesem Weg.
Dates:
| | | | | |
| --- | --- | --- | --- | --- |
| 1. | 20/03/2021 | 17:00 - 19:30 | Rheinstraße 22, 64283 Darmstadt | Bille |
* All prices including VAT