Yin Yoga with Essential Oils Advanced Training INFO Event- ONLINE
Online stream
Starts on Tuesday, 07/09/2021
Description:
Du hast eine Yoga-Lehrer*innen Ausbildung oder bist gerade in deiner Ausbildung und möchtest dein Yoga- Angebot erweitern und auch eine passivere Form des Unterrichts in dein Portfolio integrieren.
Yin Yoga ist das Yoga der Stille, der Entschleunigung, der Regeneration und der Entspannung. Der Fokus der Yin Yoga Praxis ist auf eine individuelle und wohlfühlende Ausrichtung ausgelegt, um sich für einen längeren Zeitraum in die Positionen hinein zu entspannen. Das hat zur Folge, das sich die Muskulatur lockert und das fasziale Gewebe stimuliert wird.
So kann der Körper regenerieren und seine Selbstheilungskräfte aktivieren. Die Achtsamkeit, die in der Yin Yoga Praxis entsteht lässt dich feinsinniger und bewußter werden. Ätherische Öle können den Prozessen des Loslassen und Entspannen auf eine einzigartige Weise unterstützen.
An diesem Infoabend kannst du dir ganz entspannt ein eigenes Bild von Yin Yoga with Essential Oils machen und all deine Fragen rund um die Weiterbildung stellen. Melde dich gleich über Eversports an.
Bille verwendet ätherische Öle von dōTERRA.
Online stream
There is an online stream available for this activity. To participate, take the following steps:
This studio uses Zoom as their online streaming provider. Download the according app to your laptop, tablet or smartphone
Access to the online livestream is available 15 minutes before the start of the activity. Simply go to "My bookings" and click on "Join online stream now" to be redirected to the corresponding page
With some streaming providers (e.g. Zoom) it is possible for participants to see each other. However, it is theoretically possible to deactivate the camera function. The name you enter when entering the online meeting room is displayed to other participants. However, you can always change your name (e.g. only the initials). Please note: Individual rules for online participation may apply for each class or venue.
Teacher :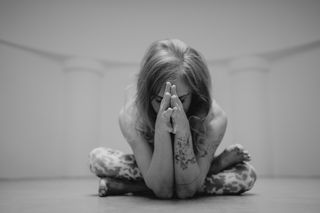 Bille
"Das Geburtsrecht eines jeden Menschen ist es, glücklich zu sein" Yogi Bhajan 1995 habe ich zum ersten Mal Yoga praktiziert. Es gefiel mir. Richtig verliebt in Yoga, die Bewegung in Körper & Geist habe ich mich 2013. Ich begann Steffis Kurse zu besuchen und schon bald war ich mitgerissen und immer wieder neugierig, auf die Matte zu kommen und mir wurde klar: Das ist mein Yoga. Mit dieser Inspiration habe ich eine Yogalehrerausbildung bei Ari Grünler im Schloss Weiler gemacht & unterrichte seit Ende 2017. Es ist wundervoll mit Yoga auf der Reise zu sein. Danke Steffi, für die Inspiration, immer wieder, für Deine Freundschaft & Dein Yoga, danke Ari, für Deine zauberhafte Begleitung, danke an alle wunderbaren Yogis auf diesem Weg.
Dates:
| | | | | |
| --- | --- | --- | --- | --- |
| 1. | 07/09/2021 | 18:00 - 20:00 | Rheinstraße 22, 64283 Darmstadt | Bille |
* All prices including VAT