Yin Yogalehrer*Innen Ausbildung Infoabend - ONLINE
Online stream
Starts on Tuesday, 07/09/2021
Description:
Du liebst Yin Yoga und hast darüber nachgedacht, tiefer in das Wissen einzusteigen? Du hast eine Yogalehrer*Innen-Ausbildung gemacht oder machst gerade eine und möchtest dein Wissen noch um die Yin Yoga Praxis erweitern?
Komm zu unserem Infoabend online oder live vor Ort und bringe gerne alle deine Fragen mit. Bille erzählt dir was dich erwartet und über ihre Form der Ausbildung. Die Ausbildung hat folgende Lerninhalte:
Yin Yoga Yogalehrer*Innen Weiterbildung 40h mit Zertifikat
Ausbildungstermine: 09. & 10.10. & 16. & 17.10. jeweils 9-20h
Die Bezeichnung "Yin Yoga" leitet sich vom chinesischen Konzept von Yin und Yang ab, das vor allem im Daoismus eine Rolle spielt. Diese Philosophie beschreibt Yin und Yang als entgegengesetzte Kräfte oder Prinzipien: Während Yin für die weibliche, ruhige, weiche und passive Energie steht, verkörpert Yang den männlichen, dynamischen und aktiven Part.
In anatomischer Hinsicht steht Yang für die Muskeln und Yin für das Bindegewebe wie Sehnen und Bänder.
Yin Yoga ist vor allem durch eine ruhige, langsame Praxis gekennzeichnet, in der die Posen lange gehalten werden.
In dieser Ausbildung lernst du:
die Yin & Yang Organe kennen

anhand der 5 Elemente die Grundlagen der TCM

die Meridianlinien

Yin Yoga Praxis und ihre Besonderheit

Yin Yoga und die Asanas: Positionen und Hilfsmittel/ Kontraindikationen

Gewebe/ Faszien

Yin Yoga & der Geist: Was passiert, wenn es still wird?

Umgang mit Emotionen

Yin Yoga & Atem: Meditation & Pranayama

Yin Yoga & ätherische Öle/ Wie dich die Wirkung der ätherischen Öle unterstützen kann mit den Ölen von dōTERRA

Yin Yoga unterrichten: Sequencing
Wann? 7. September / 18 - 20 Uhr
Online stream
There is an online stream available for this activity. To participate, take the following steps:
This studio uses Zoom as their streaming provider to online stream their activities. Download the according software or app to your laptop, tablet or smartphone.
The access to the online stream is available 15 minutes before the start of the activity. You can find the link for the online stream in your online profile under "My bookings". With a click on "Join online stream now" you will be forwarded to the corresponding page and you join the activity online!
Specific streaming providers, e.g. Zoom, allow participants to see each other through the video camera. If you do not want to show yourself or the personal environment, you can deactivate the camera function or cover the camera. The name you enter when you join the online meeting room will be shown to other participants. However, you can change your name at any time (e.g. only specify the initials).
Teacher :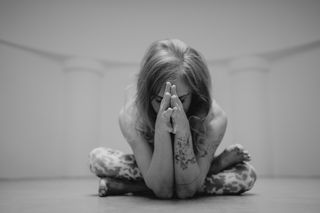 Bille
"Das Geburtsrecht eines jeden Menschen ist es, glücklich zu sein" Yogi Bhajan 1995 habe ich zum ersten Mal Yoga praktiziert. Es gefiel mir. Richtig verliebt in Yoga, die Bewegung in Körper & Geist habe ich mich 2013. Ich begann Steffis Kurse zu besuchen und schon bald war ich mitgerissen und immer wieder neugierig, auf die Matte zu kommen und mir wurde klar: Das ist mein Yoga. Mit dieser Inspiration habe ich eine Yogalehrerausbildung bei Ari Grünler im Schloss Weiler gemacht & unterrichte seit Ende 2017. Es ist wundervoll mit Yoga auf der Reise zu sein. Danke Steffi, für die Inspiration, immer wieder, für Deine Freundschaft & Dein Yoga, danke Ari, für Deine zauberhafte Begleitung, danke an alle wunderbaren Yogis auf diesem Weg.
Dates:
| | | | | |
| --- | --- | --- | --- | --- |
| 1. | 07/09/2021 | 18:00 - 20:00 | Rheinstraße 22, 64283 Darmstadt | Bille |
* All prices including VAT