Regenwald Flow - Workshop - LIVE
Starts on Friday, 26/11/2021
Price 50.00 €
Description:
Du möchtest eintauchen in die Geräusche des Regenwalds und dich von den Klängen der Tiere und Einheimischen tragen lassen? Dich interessieren die Gerüche des Waldes und deren beruhigende und wohlige Wirkung? Du lässt dich gerne im Vinyasa Flow treiben? Du möchtest die innere Heilung deines Körpers wieder reaktivieren? Du hast Spaß am spirituellen Austausch mit Gleichgesinnten?
Dann komme zum Regenwald Flow! Der Regenwald ist ein ganz magischer Ort, der uns schon seit Jahrtausenden begleitet, wie Balsam auf unsere Seele wirkt, unseren Geist klärt und uns tatsächlich auch Medikamente zur Heilung unseres physischen Körpers schenkt. Die Verbundenheit zur Erde und zum Wald lässt uns wieder zu Kräften kommen und unsere innere Stimme wieder aufklingen. Einen Teil dieser mystischen Welt und der Traditionen der heutigen Schaman:Innen möchte ich hier in Deutschland aufleben lassen und mit dir teilen.
In diesem Workshop erwartet dich:
90 Minuten Vinyasa Yoga zur Aktivierung der selbstheilenden Kräfte
Atemübungen/Pranayama zur Reinigung des Körpers
Regenwaldatmosphäre
Heilgesang nach dem Vorbild meiner peruanischen Curandera (Schamanin/Heilerin)
Wohltuende Meditation
Lapacho Tee aus dem Regenwald Perus zur Förderung des Immunsystems
Austausch spiritueller Erfahrungen
Fragerunde zu Sophie's Reise
Egal ob du mehr über Sophie's spirituelle Erfahrungen wissen oder einfach nur im Yoga Flow bei Regenwaldatmosphäre abschalten und dich auf den Winter einstimmen möchtest, dieser Workshop ist für dich. Der Kurs ist bewusst darauf ausgelegt die heilenden Kräfte des eigenen Körpers wieder zu aktivieren und jeden Körper dort abzuholen wo er/sie sich gerade befindet.
Um dich sicher begleiten und dir individuell zur Seite stehen zu können, setzen wir 2G für diesen Workshop voraus. Die Teilnehmerzahl vor Ort ist auf 20 Personen limitiert. Wenn du lieber online teilnehmen möchtest, sprich uns bitte darauf an.
RAINFOREST FLOW
You want to delve into the sounds of the rainforest and let yourself drift off to the tones of animals and natives? You are interested in the scents of the forest and their calming, comforting effect? You like to be carried away by Vinyasa flows? You'd like to reactivate the inner healing powers of your body? You enjoy spiritual exchanges with like-minded people?
Then come and join the Rainforest Flow! 
The rainforest is a magical place, which has accompanied mankind for thousands of years, acts like balm for the soul, clears our minds, and actually provides us with medicine to heal our bodies. The connection to the earth and forest lets us recover our strength and allows our inner voice to resonate. I'd like to share a part of this mystical world and shamanic traditions with you here in Germany.
What to expect from this workshop:
90 minutes Vinyasa Yoga to activate your self-healing powers
Breath work/pranayama to cleanse the body
Rainforest atmosphere 
Healing chants based on the model of my Peruvian curandera (shaman/healer)
Therapeutic meditation
Lapacho tea from the rainforests of Peru to support the immune system
Exchange of spiritual experiences 
Q&A to Sophie's trip
Whether you would like to learn more about Sophie's spiritual journey or simply would simply like to flow through a yoga sequence with rainforest atmosphere and tune your body into winter, this workshop is for you. The course is specifically crafted to reactivate the healing properties of your own body and to meet your individual needs. 
What you will need: yoga mat, comfortable/yoga clothing
When: Fr 26. November / 6pm to 8:30 pm CEST
In order to be able to accompany your flow safely and provide individual assists we require proof of 2G for this workshop. The number of participants is limited to 20 people. 
If you prefer to participate online, please get in touch with us. 
Website: https://sophie.yoga/
Instagram: https://www.instagram.com/omdurgayanamah/
Blog: https://sophie.yoga/my-journey/
Teacher :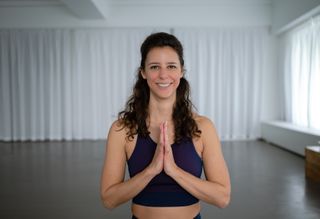 Sophie
Sophies abwechslungsreiche Stunden nehmen dich mit auf eine Yogareise. Packe deine Matte ein, verbinde dich mit deinem Atem und lasse dich liebevoll und achtsam auf dem Weg zurück zu deiner inneren Mitte und über deine eigenen Grenzen hinaus begleiten. Die Etappen unterwegs? Beruhigende und inspirierende Meditationen. Energetische, kreative und tänzerische Flows. Zum Loslassen einladende Entspannungsübungen. Sophies Yoga Stil ist authentisch, achtsam und beseelt. Sie ist internationale Yogalehrerin mit ihren Wurzeln in USA im Vinyasa Yoga. Heute unterrichtet sie auf Englisch und Deutsch Vinyasa, Hatha, Jivamukti-Style und Yin Yoga.
Dates:
| | | | | |
| --- | --- | --- | --- | --- |
| 1. | 26/11/2021 | 18:00 - 20:30 | Rheinstraße 22, 64283 Darmstadt | Sophie |
* All prices including VAT