Schwangerenyoga (mit Krankenkassen-Anerkennung) 19.04. - 21.06.21
Online stream
Starts on Monday, 19/04/2021
Price from 145.00 €
Description:
Die Schwangerschaft ist für viele Frauen eine sehr schöne Zeit, aber auch eine Zeit der großen körperlichen und seelischen Veränderungen. Schwangerenyoga ist eine sehr gute und unterstützende Begleitung während dieser Zeit und die ideale Vorbereitung auf Deine Geburt. Du kannst direkt mit Beginn der Schwangerschaft starten, bis zur Geburt. Es hilft Dir, Dich mental und körperlich auf diese einzustellen. Sollte es in deiner Schwangerschaft Komplikationen geben (oder sogar eine Risikoschwangerschaft bestehen), dann kläre bitte vorher mit deinem Frauenarzt ab, ob du am Kurs Teilnehmen darfst.
Online stream
There is an online stream available for this activity. To participate, take the following steps:
This studio uses Zoom as their streaming provider to online stream their activities. Download the according software or app to your laptop, tablet or smartphone.
The access to the online stream is available 15 minutes before the start of the activity. You can find the link for the online stream in your online profile under "My bookings". With a click on "Join online stream now" you will be forwarded to the corresponding page and you join the activity online!
Specific streaming providers, e.g. Zoom, allow participants to see each other through the video camera. If you do not want to show yourself or the personal environment, you can deactivate the camera function or cover the camera. The name you enter when you join the online meeting room will be shown to other participants. However, you can change your name at any time (e.g. only specify the initials).
Trainer :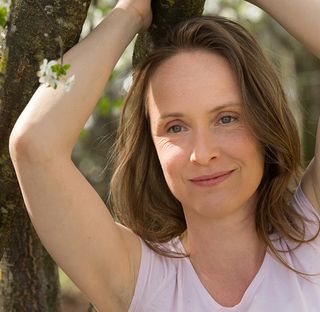 Juliane
Julianes Yogaweg begann 1995 in einer indisch-schweizerischen Forschungstheatergruppe in Frankreich. Seitdem praktiziert sie in verschiedenen Yogastilen und entschloss sich 2011 zu ihrer ersten Yogalehrer Ausbildung bei City Yoga,Berlin - zunächst einfach nur, um mehr über Yoga zu erfahren. Es folgten viele Fortbildungen u.a. im YinYoga, sowie das 300 Std Teachertraining bei Noah Mazé (2015 – 2017), Yogatherapie ( Jordan Bloom, 2017-2018), YogaAnatomie bei Paula Gelbart und div. Fortbildungen im Pre und Postnatal. "Seit einigen Jahren bin ich nun hauptberufliche Yogalehrerin mit einer unbändigen Neugier und Freude am Lernen und lehren. Mein Hauptaugenmerk liegt neben dem Pre und Postnatal vor allem auf den Anfängerkursen, da Yoga für sich zu entdecken so eine wunderbare neue Erfahrung sein kann und ich diese sehr gern weitergeben und teilen möchte."
Dates:
| | | | | |
| --- | --- | --- | --- | --- |
| 1. | 19/04/2021 | 18:30 - 19:45 | Käthe-Niederkirchner-Straße 33, 10407 Berlin | Juliane |
| 2. | 26/04/2021 | 18:30 - 19:45 | Käthe-Niederkirchner-Straße 33, 10407 Berlin | Juliane |
| 3. | 03/05/2021 | 18:30 - 19:45 | Käthe-Niederkirchner-Straße 33, 10407 Berlin | Juliane |
| 4. | 10/05/2021 | 18:30 - 19:45 | Käthe-Niederkirchner-Straße 33, 10407 Berlin | Juliane |
| 5. | 17/05/2021 | 18:30 - 19:45 | Käthe-Niederkirchner-Straße 33, 10407 Berlin | Juliane |
| 6. | 24/05/2021 | 18:30 - 19:45 | Käthe-Niederkirchner-Straße 33, 10407 Berlin | Juliane |
| 7. | 31/05/2021 | 18:30 - 19:45 | Käthe-Niederkirchner-Straße 33, 10407 Berlin | Juliane |
| 8. | 07/06/2021 | 18:30 - 19:45 | Käthe-Niederkirchner-Straße 33, 10407 Berlin | Juliane |
| 9. | 14/06/2021 | 18:30 - 19:45 | Käthe-Niederkirchner-Straße 33, 10407 Berlin | Juliane |
| 10. | 21/06/2021 | 18:30 - 19:45 | Käthe-Niederkirchner-Straße 33, 10407 Berlin | Juliane |
* All prices including VAT