Shape & Substance: Core + Booty Challenge
Online stream
Starts on Friday, 05/03/2021
Price from 5.00 €
Description:
Take yourself on a 7 Day journey to explore your strength, stamina and motivation. Isa will guide you through a combination of core & gluteus exercises to get your heart pumping & your muscles working.
The compact format of the challenge nurtures you with the right motivation to show up for yourself everyday and rewards you with a burst of energy, clarity and stamina both on and off the mat.
7 Days Shape & Substance to refresh your body and fortify your mind.
Online stream
There is an online stream available for this activity. To participate, take the following steps:
Make sure to read the description of your booked activity in advance to know which streaming provider your studio. Download the necessary app to your laptop, tablet or smartphone
Access to the online livestream is available 15 minutes before the start of the activity. Simply go to "My bookings" and click on "Join online stream now" to be redirected to the corresponding page
With some streaming providers (e.g. Zoom) it is possible for participants to see each other. However, it is theoretically possible to deactivate the camera function. The name you enter when entering the online meeting room is displayed to other participants. However, you can always change your name (e.g. only the initials). Please note: Individual rules for online participation may apply for each class or venue.
Teacher :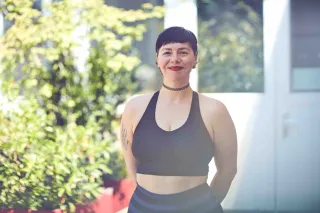 Isabelle
Dates:
| | | | | |
| --- | --- | --- | --- | --- |
| 1. | 05/03/2021 | 07:40 - 08:00 | Bei dir Zu Hause, 70197 Stuttgart | Isabelle |
| 2. | 06/03/2021 | 07:40 - 08:00 | Bei dir Zu Hause, 70197 Stuttgart | Isabelle |
| 3. | 07/03/2021 | 07:40 - 08:00 | Bei dir Zu Hause, 70197 Stuttgart | Isabelle |
| 4. | 08/03/2021 | 07:40 - 08:00 | Bei dir Zu Hause, 70197 Stuttgart | Isabelle |
| 5. | 09/03/2021 | 07:40 - 08:00 | Bei dir Zu Hause, 70197 Stuttgart | Isabelle |
| 6. | 10/03/2021 | 07:40 - 08:00 | Bei dir Zu Hause, 70197 Stuttgart | Isabelle |
| 7. | 11/03/2021 | 07:40 - 08:00 | Bei dir Zu Hause, 70197 Stuttgart | Isabelle |
| 8. | 12/03/2021 | 07:40 - 08:00 | Bei dir Zu Hause, 70197 Stuttgart | Isabelle |
* All prices including VAT