3 Wochen Hips Pre- & Rehab Mobility-Challenge
Online stream
Starts on Wednesday, 08/09/2021
Price 49.00 €
Description:
Mit der heutigen Lebensweise ignorieren und quälen wir unsere Hüfte so lange, bis sich die ersten chronischen Rückenbeschwerden einstellen - langes Sitzen, wenig Bewegung und wenn, dann meistens recht ungesunde und unbewusste Bewegung, bis hin zu arthrosefördernden Trainingsmethoden, wie dem passiven Stretching/Dehnen.
Diese Hips Pre- & Rehab -Challenge hat zum Ziel, dich einer gesunden und schmerzfreien Alltagsmobilität jeden Tag ein Stück näher zu bringen. Regelmäßigkeit ist dabei der wichtigste Faktor zum Erfolg, daher findet das 30-minütige Training täglichen via Zoom statt. Du lernst im Theorieteil die Anatomie deiner Hüfte kennen und mit vielen verschiedenen Übungen und Drills, die richtige Muskulatur zu aktivieren, deine Hüfte bewusst und gesund zu mobilisieren und die richtige Muskulatur zu kräftigen. Anwendungsvielfalt und technische Anleitung on point helfen dir, schneller und mit Spass dein Ziel zu erreichen.
Das Training via Zoom findet Montag-Freitag um 18.30 Uhr statt und wird aufgezeichnet, sodass du dir das Video auch die folgenden 24h danach nochmal anschauen kannst.
Online stream
There is an online stream available for this activity. To participate, take the following steps:
This studio uses Zoom as their online streaming provider. Download the according app to your laptop, tablet or smartphone
Access to the online livestream is available 15 minutes before the start of the activity. Simply go to "My bookings" and click on "Join online stream now" to be redirected to the corresponding page
With some streaming providers (e.g. Zoom) it is possible for participants to see each other. However, it is theoretically possible to deactivate the camera function. The name you enter when entering the online meeting room is displayed to other participants. However, you can always change your name (e.g. only the initials). Please note: Individual rules for online participation may apply for each class or venue.
Trainer :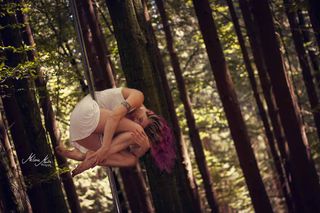 Chrissi
Gründerin von LIFT OFF und Cheftrainerin seit 2013. Chrissi ist ein Allround-Talent und deckt alle Stile von Pole in ihren Trainings und Workshops ab. Ihr technisches Know-How und Können hebt sie von vielen anderen Pole-Trainern ab. Durch ihre Zusatzausbildungen in Anatomie und Mobility, legt sie großen Wert auf ein ganzheitliches und gesundheitsorientiertes Training. Ihre Schüler schätzen ihre freundliche und motivierende Art ebenso wie Chrissis Expertise.
Dates:
| | | | | |
| --- | --- | --- | --- | --- |
| 1. | 08/09/2021 | 21:00 - 21:30 | Gerauer Str. 44 Chrissis Pole Lounge, 60528 Frankfurt | Chrissi |
| 2. | 09/09/2021 | 18:30 - 19:00 | Gerauer Str. 44 Chrissis Pole Lounge, 60528 Frankfurt | Chrissi |
| 3. | 10/09/2021 | 18:30 - 19:00 | Gerauer Str. 44 Chrissis Pole Lounge, 60528 Frankfurt | Chrissi |
| 4. | 13/09/2021 | 18:30 - 19:00 | Gerauer Str. 44 Chrissis Pole Lounge, 60528 Frankfurt | Chrissi |
| 5. | 14/09/2021 | 18:30 - 19:00 | Gerauer Str. 44 Chrissis Pole Lounge, 60528 Frankfurt | Chrissi |
| 6. | 15/09/2021 | 18:00 - 18:30 | Gerauer Str. 44 Chrissis Pole Lounge, 60528 Frankfurt | Chrissi |
| 7. | 16/09/2021 | 18:30 - 19:00 | Gerauer Str. 44 Chrissis Pole Lounge, 60528 Frankfurt | Chrissi |
| 8. | 17/09/2021 | 18:30 - 19:00 | Gerauer Str. 44 Chrissis Pole Lounge, 60528 Frankfurt | Chrissi |
| 9. | 20/09/2021 | 18:30 - 19:00 | Gerauer Str. 44 Chrissis Pole Lounge, 60528 Frankfurt | Chrissi |
| 10. | 21/09/2021 | 18:30 - 19:00 | Gerauer Str. 44 Chrissis Pole Lounge, 60528 Frankfurt | Chrissi |
* All prices including VAT