Online Workshop - Gentle Touch!
Online stream
Starts on Saturday, 27/02/2021
Price from 25.00 €
Description:
Gentle Touch - Yoga, Körperarbeit und Selbstmassage
Nur wenn wir uns spüren, können wir uns selbst begegnen und verstehen.
Sobald wir geboren werden, suchen wir nach Verbindung. Es ist schließlich der liebevolle Kontakt, der uns auf der Welt ankommen lässt und es ist einer der Gründe, warum berührt werden, in all seinen Facetten, so wichtig für uns ist.
Dieser Workshop würdigt genau das. Es erwarten dich Bewegung in Form von Yoga, Atemarbeit und Selbstmassage. Es entsteht ein Raum der Bewegung und Begegnung mit dir.
PS: Der Workshop findet über unser Meeting Tool von Cisco Webex statt. Zu Beginn des Workshops erhältst du eine E-Mail mit dem Link zur Teilnahme Meeting. Bitte stelle sicher, dass du die Benachrichtigung per E-Mail eingeschaltet hast.
Online stream
There is an online stream available for this activity. To participate, take the following steps:
Make sure to read the description of your booked activity in advance to know which streaming provider your studio. Download the necessary app to your laptop, tablet or smartphone
Access to the online livestream is available 15 minutes before the start of the activity. Simply go to "My bookings" and click on "Join online stream now" to be redirected to the corresponding page
With some streaming providers (e.g. Zoom) it is possible for participants to see each other. However, it is theoretically possible to deactivate the camera function. The name you enter when entering the online meeting room is displayed to other participants. However, you can always change your name (e.g. only the initials). Please note: Individual rules for online participation may apply for each class or venue.
Teacher :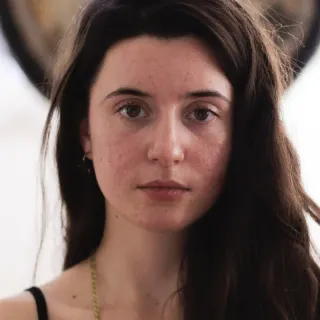 Lolo
Loledana lebt und arbeitet in Düsseldorf und praktiziert seit fast zehn Jahren Yoga. Wenn sie gefragt wird, was sie unterrichtet antworte sie gerne: "einfach Yoga!" Es gibt so viele Stilrichtungen, aber eigentlich sind wir alle auf dem Weg. Und zwar auf dem, des Yoga. Praktisch unterrichtet sie Sivananda, Vinyasa, Meditation und Yin Yoga. Intuition, Technik, Stille, Achtsamkeit – das sind Begriffe, mit denen sie sich verbunden fühlt. Sie hat Philosophie studiert und versenkt sich leidenschaftlich gern in die yogische Philosophie. Wo es passt, läßt sie die Theorie in ihren Unterricht einfließen, sodass auch du davon profitieren kannst. Sie liebt es, wenn ihre Schüler ihr Fragen stellen. Yoga gibt uns eine Idee davon, was es bedeutet zu "sein", öffnet die Fenster unseres Herzens und bringt Licht in unser Leben. Yoga bedeutet für sie Freundschaft schließen. Mit sich und der Welt. Aber auch das Loslassen von Altem und das Annehmen von Neuem. Yoga hilft, wenn Entscheidungen getroffen werden wollen. Von welchen Dingen musst du Abschied nehmen, um das Neue begrüßen zu können? Was ist dein Weg und wie kannst du diesen beschreiten? Wie kannst du das Leben in seiner chaotischen Schönheit lieben lernen? All das, und noch so viel mehr, kann dich Yoga lehren. Lolo unterrichtet Vinyasa-, Hatha- und Yin Yoga.
Dates:
| | | | | |
| --- | --- | --- | --- | --- |
| 1. | 27/02/2021 | 15:00 - 17:00 | Online Session, bei Dir zu Hause | Lolo |
* All prices including VAT