Yoga 3 Kurs
Online stream
Starts on Thursday, 14/01/2021
Price from 49.00 €
Description:
Variationen, längeres Halten, intensiveres Pranayama.
Das besondere Thema des Kurses sind die ausgewählten Verse aus dem Yoga Sutra von Patanjali, dem klassischen Werk des Raja Yoga. Das Ziel des Raja Yoga ist den Geist in die Konzentration zu führen.
Lausche auf die ausgewählten Verse und kontempliere über ihre Bedeutung, während Du in den Asanas verweilst.
Online stream
There is an online stream available for this activity. To participate, take the following steps:
This studio uses Zoom as their streaming provider to online stream their activities. Download the according software or app to your laptop, tablet or smartphone.
The access to the online stream is available 15 minutes before the start of the activity. You can find the link for the online stream in your online profile under "My bookings". With a click on "Join online stream now" you will be forwarded to the corresponding page and you join the activity online!
Specific streaming providers, e.g. Zoom, allow participants to see each other through the video camera. If you do not want to show yourself or the personal environment, you can deactivate the camera function or cover the camera. The name you enter when you join the online meeting room will be shown to other participants. However, you can change your name at any time (e.g. only specify the initials).
Teacher :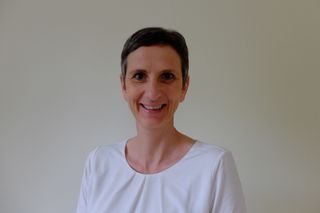 Anette M.
Dates:
| | | | | |
| --- | --- | --- | --- | --- |
| 1. | 14/01/2021 | 17:00 - 18:30 | Niddastraße 76, 60329 Frankfurt am Main | Anette M. |
| 2. | 21/01/2021 | 17:00 - 18:30 | Niddastraße 76, 60329 Frankfurt am Main | Anette M. |
| 3. | 28/01/2021 | 17:00 - 18:30 | Niddastraße 76, 60329 Frankfurt am Main | Anette M. |
| 4. | 04/02/2021 | 17:00 - 18:30 | Niddastraße 76, 60329 Frankfurt am Main | Anette M. |
| 5. | 11/02/2021 | 17:00 - 18:30 | Niddastraße 76, 60329 Frankfurt am Main | Anette M. |
| 6. | 18/02/2021 | 17:00 - 18:30 | Niddastraße 76, 60329 Frankfurt am Main | Anette M. |
| 7. | 25/02/2021 | 17:00 - 18:30 | Niddastraße 76, 60329 Frankfurt am Main | Anette M. |
| 8. | 04/03/2021 | 17:00 - 18:30 | ONLINE LIVE, Übertragun Frankfurt am Main | Anette M. |
* All prices including VAT