Meditation & Mantra-Yoga Kurs (Präventionskurs der gesetzlichen Krankenkassen) - LIVE ONLINE
Online stream
Starts on Wednesday, 17/03/2021
Price from 49.00 €
Description:
Was ist Meditation und welche positiven Wirkungen hat sie auf deinen Körper, deine Gedanken und Gefühle? Wie kannst du deinen Geist zur Ruhe bringen und damit mehr innere Ruhe und Gelassenheit bekommen?
In diesem 8-wöchigen Meditationskurs wirst du systematisch in die Mediationspraxis eingeführt. Du bekommst Hintergrundwissen, lernst und praktizierst unterschiedliche Meditationstechniken. Durch die Meditationspraxis findest du heraus welche Meditationstechnink für dich gut geeignet ist.
Wir tauschen die Praxiserfahrungen aus und sprechen über mögliche Hindernisse während der Meditation und wie wir diese überwinden können.
Meditieren lernen für mehr Entspannung und Wohlbefinden, für mehr Energie und Achtsamkeit, für deine Bewusstseinserweiterung.
Kursleiterin: Tara Devi (Alba Lenertz) ist Yogalehrerin (BYV), Entspannungskursleiterin (BYVG), Meditationskursleiter (YV), Theaterpädagogin (BuT). Ihre positive Lebenseinstellung und Kreativität erzeugen im Unterricht einen harmonischen Energiefluss.
Der Kurs ist von der gesetzlichen Krankenkassen anerkannt und wird bei regelmäßiger Teilnahme (auch online) zu ca. 80 % erstattet.
Der Kurs findet nach der Wiedereröffnung des Centers ausschließlich vor Ort statt.
Online stream
There is an online stream available for this activity. To participate, take the following steps:
This studio uses Zoom as their streaming provider to online stream their activities. Download the according software or app to your laptop, tablet or smartphone.
The access to the online stream is available 15 minutes before the start of the activity. You can find the link for the online stream in your online profile under "My bookings". With a click on "Join online stream now" you will be forwarded to the corresponding page and you join the activity online!
Specific streaming providers, e.g. Zoom, allow participants to see each other through the video camera. If you do not want to show yourself or the personal environment, you can deactivate the camera function or cover the camera. The name you enter when you join the online meeting room will be shown to other participants. However, you can change your name at any time (e.g. only specify the initials).
Trainer :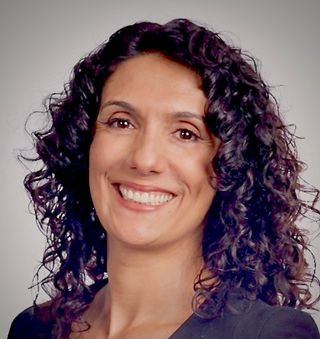 Tara Devi Alba
Dates:
| | | | | |
| --- | --- | --- | --- | --- |
| 1. | 17/03/2021 | 17:00 - 18:30 | ONLINE LIVE, Übertragun Frankfurt am Main | Tara Devi Alba |
| 2. | 24/03/2021 | 17:00 - 18:30 | ONLINE LIVE, Übertragun Frankfurt am Main | Tara Devi Alba |
| 3. | 31/03/2021 | 17:00 - 18:30 | ONLINE LIVE, Übertragun Frankfurt am Main | Tara Devi Alba |
| 4. | 07/04/2021 | 17:00 - 18:30 | ONLINE LIVE, Übertragun Frankfurt am Main | Tara Devi Alba |
| 5. | 14/04/2021 | 17:00 - 18:30 | ONLINE LIVE, Übertragun Frankfurt am Main | Tara Devi Alba |
| 6. | 21/04/2021 | 17:00 - 18:30 | ONLINE LIVE, Übertragun Frankfurt am Main | Tara Devi Alba |
| 7. | 28/04/2021 | 17:00 - 18:30 | ONLINE LIVE, Übertragun Frankfurt am Main | Tara Devi Alba |
| 8. | 05/05/2021 | 17:00 - 18:30 | ONLINE LIVE, Übertragun Frankfurt am Main | Tara Devi Alba |
* All prices including VAT