Von der Sterblichkeit zur Unsterblichkeit - LIVE ONLINE
Online stream
Starts on Sunday, 18/04/2021
Price from 23.00 €
Description:
Das Thema Tod und Sterben ist für jeden Menschen relevant, denn das Leben endet mit dem Tod. Oft verdrängen wir das Thema, weil es schmerzhaft ist. Unausweichlich werden wir aber früher oder später mit ihm konfrontiert und es ist gut vorbereitet zu sein, denn der Tod gehört zum Leben.
Du bist unsterblich" flüstert leise der Tod. Lege in diesem Workshop mehr und mehr den Schleier der Unwissenheit ab und erkenne Dein wahres Wesen, ewig, rein, unsterblich und frei. Praktiziere ganz lebendig durchaus fordernde Asanas während Yama, der Gott des Todes Dich über den Tod und das Leben lehrt.
Die Lehren des Todes sind in der Katha- Upanishad als Zwiegespräch zwischen Nachiketa und Yama wiedergeben und werden in einfacher Übersetzung im Workshop verwendet.
Grundkenntnisse Kenntnisse in Hatha Yoga sollten vorhanden sein.
Online stream
There is an online stream available for this activity. To participate, take the following steps:
This studio uses Zoom as their streaming provider to online stream their activities. Download the according software or app to your laptop, tablet or smartphone.
The access to the online stream is available 15 minutes before the start of the activity. You can find the link for the online stream in your online profile under "My bookings". With a click on "Join online stream now" you will be forwarded to the corresponding page and you join the activity online!
Specific streaming providers, e.g. Zoom, allow participants to see each other through the video camera. If you do not want to show yourself or the personal environment, you can deactivate the camera function or cover the camera. The name you enter when you join the online meeting room will be shown to other participants. However, you can change your name at any time (e.g. only specify the initials).
Teacher :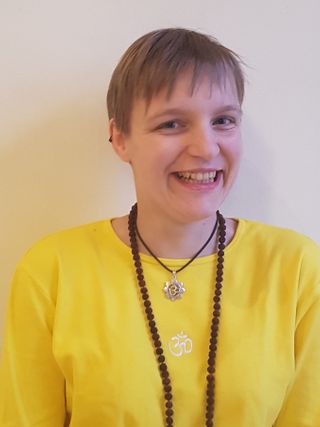 Vimala
Dates:
| | | | | |
| --- | --- | --- | --- | --- |
| 1. | 18/04/2021 | 08:00 - 11:00 | ONLINE LIVE, Übertragun Frankfurt am Main | Vimala |
* All prices including VAT