Yoga Kurs für Schwangere (Präventionskurs) - LIVE ONLINE
Online stream
Starts on Monday, 26/07/2021
Price 98.00 €
Description:
Während der Schwangerschaft ermöglichen speziell an die veränderten Bedürfnisse des Körpers angepasste Yogaübungen die Entwicklung von tiefem Körperbewusstsein, Flexibilität und (Muskel-) Kraft.
Mit Ruhe, Entspannung und Meditation findest du zurück zu deiner eigenen Intuition und entdeckst in dir die Gelassenheit und Zuversicht für die Geburt und die Zeit danach. In dieser Stunde spielt es keine Rolle, ob du keine, wenig oder bereits viel Erfahrung mit Yoga hast. Es ist während der gesamten Schwangerschaft möglich und sogar sinnvoll, Yoga zu praktizieren.
Die Kurse von Vimala Franziska Henschel sind von der Zentralen Prüfstelle Prävention als Präventionskurse zertifiziert und werden somit von allen gesetzlichen Krankenkassen bezuschusst.
Online stream
There is an online stream available for this activity. To participate, take the following steps:
This studio uses Zoom as their streaming provider to online stream their activities. Download the according software or app to your laptop, tablet or smartphone.
The access to the online stream is available 15 minutes before the start of the activity. You can find the link for the online stream in your online profile under "My bookings". With a click on "Join online stream now" you will be forwarded to the corresponding page and you join the activity online!
Specific streaming providers, e.g. Zoom, allow participants to see each other through the video camera. If you do not want to show yourself or the personal environment, you can deactivate the camera function or cover the camera. The name you enter when you join the online meeting room will be shown to other participants. However, you can change your name at any time (e.g. only specify the initials).
Teacher :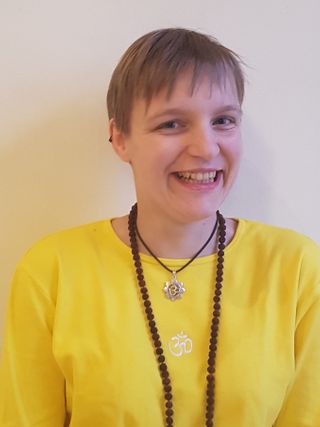 Vimala
Dates:
| | | | | |
| --- | --- | --- | --- | --- |
| 1. | 26/07/2021 | 17:00 - 18:30 | ONLINE LIVE, Übertragun Frankfurt am Main | Vimala |
| 2. | 02/08/2021 | 17:00 - 18:30 | ONLINE LIVE, Übertragun Frankfurt am Main | Vimala |
| 3. | 09/08/2021 | 17:00 - 18:30 | ONLINE LIVE, Übertragun Frankfurt am Main | Vimala |
| 4. | 16/08/2021 | 17:00 - 18:30 | ONLINE LIVE, Übertragun Frankfurt am Main | Vimala |
| 5. | 23/08/2021 | 17:00 - 18:30 | ONLINE LIVE, Übertragun Frankfurt am Main | Vimala |
| 6. | 30/08/2021 | 17:00 - 18:30 | ONLINE LIVE, Übertragun Frankfurt am Main | Vimala |
| 7. | 06/09/2021 | 17:00 - 18:30 | ONLINE LIVE, Übertragun Frankfurt am Main | Vimala |
| 8. | 13/09/2021 | 17:00 - 18:30 | ONLINE LIVE, Übertragun Frankfurt am Main | Vimala |
* All prices including VAT