Faszien Yoga: eine heilsame Praxis für Körper und Geist
Online stream
Starts on Monday, 17/10/2022
Price 499.00 €
Description:
Unsere Körperhaltung und unsere Beweglichkeit wirken sich stark auf unser körperliches und geistiges Wohlbefinden aus. Zu wenig Bewegung und das viele Sitzen im Alltag kann zu Verspannungen und Schmerzen im Schulter- und Nackenbereich führen.
Mit fließenden und geschmeidigen Bewegungen wird in dieser Woche Faszientraining mit Yin- und Yang Yoga- Elementen verbunden, sodass schließlich eine wohltuende und eigene Praxis entwickelt wird. Es werden Tools erlernt, die den (Berufs-) Alltag unterstützen, wie Meditationen, Atemübungen und Faszienübungen, die zur Stabilität und Flexibilität beitragen.
Inhaltliche Schwerpunkte:  - Faszien, Flexibilität und Stabilität - Yoga - Philosophie und Geschichte - Achtsamkeitsmeditation als Stressbewältigung, gesunde Routinen und Implementationsstrategien. 
Dozentin: Julia Kothe Datum: Mo 16. - Fr 20.05.2022  Zeiten: 08:30 - 13:30 Ort: YOMA, Bremen Kosten: 499€ Anmeldung: Hier Bei Fragen bitte Mail an: bildungszeit@yo-ma.info
Online stream
There is an online stream available for this activity. To participate, take the following steps:
This studio uses Zoom as their online streaming provider. Download the according app to your laptop, tablet or smartphone
Access to the online livestream is available 15 minutes before the start of the activity. Simply go to "My bookings" and click on "Join online stream now" to be redirected to the corresponding page
With some streaming providers (e.g. Zoom) it is possible for participants to see each other. However, it is theoretically possible to deactivate the camera function. The name you enter when entering the online meeting room is displayed to other participants. However, you can always change your name (e.g. only the initials). Please note: Individual rules for online participation may apply for each class or venue.
Teacher :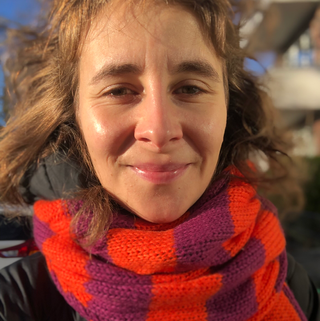 Julia
Julia arbeitet seit 2016 hauptberuflich als Yogalehrerin. Nach ihrem Bachelor in Psychologie, absolvierte sie ihre erste Ausbildung als Yogalehrerin in Mexico. Sie ist mit 750 Stunden bei der Yoga Alliance als Hot, Vinyasa Flow und Ashtanga Basic Yoga Lehrerin qualifiziert. Seit 2020 bietet Julia Bildungszeiten zum Thema Yoga, Meditation, Faszien, körperliche und geistige Gesundheit an, welches Sie mit ihrem Wissen aus Psychologie und der Philosophie des Yoga verbindet. Seit 2019 arbeitet Julia selbstständig als Yogalehrerin, bietet Privatstunden, Kurse und Retreats an, und leitet vier bis acht Kurse die Woche in ihrem eigenen Studio yogalieben. Mit ihrem ruhigen Wesen und besonderen Art auf Menschen einzugehen, ist sie denen, die zu ihr kommen eine gute Lehrerin. Sie achtet auf die richtige Ausführung und legt Wert darauf jedem im Raum gegebenenfalls Modifikationen anzubieten. Aus eigener Erfahrung lernte sie mit Verletzungen umzugehen, und die Praxis und verschiedene Methoden zu nutzen, um diesen entgegenzuwirken.
Dates:
| | | | | |
| --- | --- | --- | --- | --- |
| 1. | 17/10/2022 | 09:00 - 13:30 | Römerstraße 1, 28203 Bremen | Julia |
| 2. | 18/10/2022 | 09:00 - 13:30 | Römerstraße 1, 28203 Bremen | Julia |
| 3. | 19/10/2022 | 09:00 - 13:30 | Römerstraße 1, 28203 Bremen | Julia |
| 4. | 20/10/2022 | 09:00 - 13:30 | Römerstraße 1, 28203 Bremen | Julia |
| 5. | 21/10/2022 | 09:00 - 13:30 | Römerstraße 1, 28203 Bremen | Julia |
* All prices including VAT