Balsam für Herz und Seele / Stress, Gehirn und Meditation
Online stream
Starts on Tuesday, 02/03/2021
Price from 177.00 €
Description:
Stress und Resilienz - Gehirn und Meditation - schon die alten Yogis und Yoginis wussten was uns helfen kann, wenn die Welt aus dem Fugen zu geraten scheint.
Raus aus dem Druck, den ewigen Gedankenschleifen und der merkwürdigen Stimmung, dem schlechten Schlaf und allem anderen was Stress macht.
Meditation und Yoga-Coaching damit du in dir Stabilität und Frieden finden kannst.
Was ist Stress?
Was ist Resilienz?
Wie funktioniert das Gehirn im Hinblick auf Entspannung?
Was ist Meditation?
Wie hilft Meditation?
Wie kann Yogaphilosophie helfen?
Mehr Infos folgen.
Online stream
There is an online stream available for this activity. To participate, take the following steps:
This studio uses Zoom as their streaming provider to online stream their activities. Download the according software or app to your laptop, tablet or smartphone.
The access to the online stream is available 15 minutes before the start of the activity. You can find the link for the online stream in your online profile under "My bookings". With a click on "Join online stream now" you will be forwarded to the corresponding page and you join the activity online!
Specific streaming providers, e.g. Zoom, allow participants to see each other through the video camera. If you do not want to show yourself or the personal environment, you can deactivate the camera function or cover the camera. The name you enter when you join the online meeting room will be shown to other participants. However, you can change your name at any time (e.g. only specify the initials).
Teacher :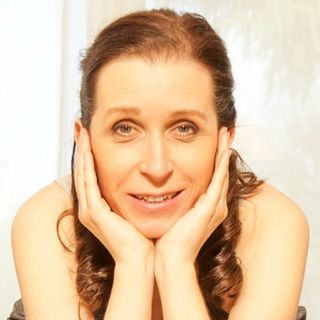 Martina
Dates:
| | | | | |
| --- | --- | --- | --- | --- |
| 1. | 02/03/2021 | 19:15 - 21:10 | Hagenstraße 19, 64297 Darmstadt | Martina |
| 2. | 09/03/2021 | 19:15 - 21:10 | Hagenstraße 19, 64297 Darmstadt | Martina |
| 3. | 16/03/2021 | 19:15 - 21:10 | Hagenstraße 19, 64297 Darmstadt | Martina |
| 4. | 23/03/2021 | 19:15 - 21:10 | Hagenstraße 19, 64297 Darmstadt | Martina |
| 5. | 30/03/2021 | 19:15 - 21:10 | Hagenstraße 19, 64297 Darmstadt | Martina |
Cancellations
bis 60 Tage vor Kurs/Workshopstart wird eine Gebühr von 25% des Beitrages berechnet
ab 60 Tage vor Kurs/Workshopstart wird eine Gebühr von 50% des Beitrages berechnet
ab 14 Tage vor Kurs/Workshopstart ist die volle Gebühr fällig; ein Ersatzteilnehmer kann genannt werden, dann sind 25% Aufwandsentschädigung fällig
versäumte Einheiten können nicht in einem Folgeangebot nachgeholt werden (Präventionskurse/Kurse/Workshops)
* All prices including VAT