Neun heilige Nächte // Navarātri // ONLINE
Online stream
Starts on Thursday, 07/10/2021
Price from 69.00 €
Description:
Ein Fest zu Ehren der göttlichen Mutter - Devi, Durga, in all ihren Formen und Gestalten.
Geschichten, Puja (Ritual), Meditation und spirituelle Inspiration für dich! Im Stil der Mindful Momentes Mini begleite ich dich durch diese heiligen Tage im Oktober.
Wir starten am 6. Oktober mit einer Neumond Meditation und dann geht es um den Kampf von Hell und Dunkel - am Ende siegt Devi über all unsere Zweifel, Unsicherheiten, Verletzungen und Ängste. Bitte buche die Neumond-Meditation extra!
Ich zeichne alle Termine auf und stelle sie in der Videothek für später zu Verfügung, wenn du nicht live dabei sein kannst.
Online stream
There is an online stream available for this activity. To participate, take the following steps:
This studio uses Zoom as their online streaming provider. Download the according app to your laptop, tablet or smartphone
Access to the online livestream is available 15 minutes before the start of the activity. Simply go to "My bookings" and click on "Join online stream now" to be redirected to the corresponding page
With some streaming providers (e.g. Zoom) it is possible for participants to see each other. However, it is theoretically possible to deactivate the camera function. The name you enter when entering the online meeting room is displayed to other participants. However, you can always change your name (e.g. only the initials). Please note: Individual rules for online participation may apply for each class or venue.
Trainer :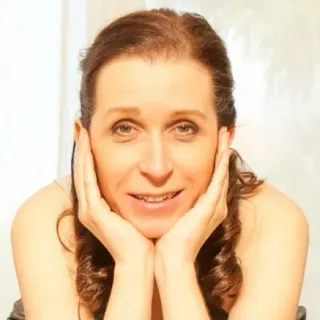 Martina
Dates:
| | | | | |
| --- | --- | --- | --- | --- |
| 1. | 07/10/2021 | 20:20 - 20:50 | Hagenstraße 19, 64297 Darmstadt | Martina |
| 2. | 08/10/2021 | 18:00 - 18:30 | Hagenstraße 19, 64297 Darmstadt | Martina |
| 3. | 09/10/2021 | 18:00 - 18:30 | Hagenstraße 19, 64297 Darmstadt | Martina |
| 4. | 10/10/2021 | 18:00 - 18:30 | Hagenstraße 19, 64297 Darmstadt | Martina |
| 5. | 11/10/2021 | 19:00 - 19:30 | Hagenstraße 19, 64297 Darmstadt | Martina |
| 6. | 12/10/2021 | 18:00 - 18:30 | Hagenstraße 19, 64297 Darmstadt | Martina |
| 7. | 13/10/2021 | 18:00 - 18:30 | Hagenstraße 19, 64297 Darmstadt | Martina |
| 8. | 14/10/2021 | 18:00 - 18:30 | Hagenstraße 19, 64297 Darmstadt | Martina |
| 9. | 15/10/2021 | 18:00 - 18:30 | Hagenstraße 19, 64297 Darmstadt | Martina |
* All prices including VAT