Ladystyle Team Project - "Provenza"
Starts on Thursday, 29/09/2022
Price 157.00 €
Description:
Provenza
Das neue Bachata Ladystyle Team Projekt ist auf 3 Monate ausgelegt und eignet sich perfekt für Neueinsteigerinnen, aber auch für erfahrenere Tänzerinnen. Im wöchentlichen Training lernen wir eine Bachata Sensual Choreografie in einer motivierten Gruppe, wobei am Ende die Option besteht, diese auf einer Bühne in Showkostümen aufzuführen. Im Vordergrund steht aber natürlich das Üben von Musikalität, Armstyling, Beinarbeit und Körperbewegungen im Zusammenhang mit verschiedenen Techniken der Bachata Sensual. Ziel ist es, am Ende des Projektes alle erlernten Bewegungen in Tanzkombinationen umzusetzen und einfach Spaß daran zu haben, zur Musik zu tanzen. Der Hauptfokus des Kurses ist dabei die Arbeit an der gesamten Körperhaltung und -technik, die dabei hilft euch feminin und elegant zu Bachata-Musik auszudrücken. Ihr lernt dabei Woche für Woche, wie ihr euch sinnlicher bewegt und selbstsicherer werdet und könnt viele der erlernten Techniken und Bewegungen direkt im Social Dance anwenden.
Ladies! It's your chance to push your technique and styling to the next level and to perform on stage with your dance team!
Kursort: Berlin Dance Institute (Egelingzeile 6, 12103 Berlin)
Kurszeiten: Donnerstag, 19:15 - 20:45
Dauer: 29.09.-15.12.2022
Trainerin: Sandy
Trainer :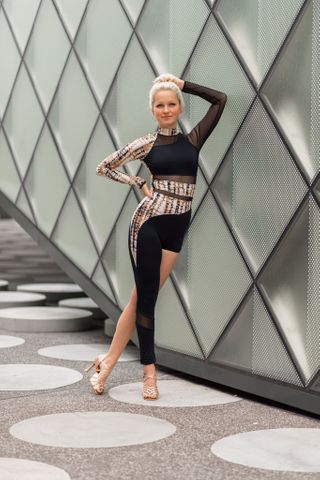 Sandy
Dates:
| | | | | |
| --- | --- | --- | --- | --- |
| 1. | 29/09/2022 | 19:15 - 20:45 | Egelingzeile 6, 12103 Berlin | Sandy |
| 2. | 06/10/2022 | 19:15 - 20:45 | Egelingzeile 6, 12103 Berlin | Sandy |
| 3. | 13/10/2022 | 19:15 - 20:45 | Egelingzeile 6, 12103 Berlin | Sandy |
| 4. | 20/10/2022 | 19:15 - 20:45 | Egelingzeile 6, 12103 Berlin | Sandy |
| 5. | 27/10/2022 | 19:15 - 20:45 | Egelingzeile 6, 12103 Berlin | Sandy |
| 6. | 03/11/2022 | 19:15 - 20:45 | Egelingzeile 6, 12103 Berlin | Sandy |
| 7. | 10/11/2022 | 19:15 - 20:45 | Egelingzeile 6, 12103 Berlin | Sandy |
| 8. | 17/11/2022 | 19:15 - 20:45 | Egelingzeile 6, 12103 Berlin | Sandy |
| 9. | 24/11/2022 | 19:15 - 20:45 | Egelingzeile 6, 12103 Berlin | Sandy |
| 10. | 01/12/2022 | 19:15 - 20:45 | Egelingzeile 6, 12103 Berlin | Sandy |
* All prices including VAT