YOCO - Präventionskurs 8 Einheiten
Online stream
Starts on Thursday, 29/10/2020
Price from 70.00 €
Online stream
There is an online stream available for this activity. To participate, take the following steps:
This studio uses Zoom as their streaming provider to online stream their activities. Download the according software or app to your laptop, tablet or smartphone.
The access to the online stream is available 15 minutes before the start of the activity. You can find the link for the online stream in your online profile under "My bookings". With a click on "Join online stream now" you will be forwarded to the corresponding page and you join the activity online!
Specific streaming providers, e.g. Zoom, allow participants to see each other through the video camera. If you do not want to show yourself or the personal environment, you can deactivate the camera function or cover the camera. The name you enter when you join the online meeting room will be shown to other participants. However, you can change your name at any time (e.g. only specify the initials).
Trainer :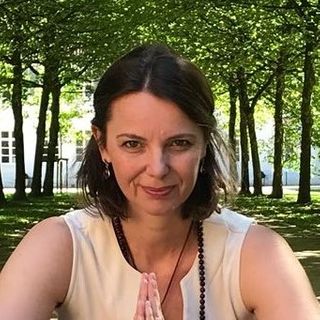 Karin Sundari
Karin Sundari, geb. 1969, Mutter zweier erwachsener Kinder, lebt in Rheine an der Ems (NRW) und und arbeitet online und mobil überörtlich. Als kommunale Verwaltungswirtin war sie knapp 30 Jahre beratend in Projekten der Schul- und Sozialverwaltung und als Gleichstellungs- und Familienbeauftragte tätig, bevor sie nach einer persönlichen Krise den Yogaweg einschlug. Sie unterrichtet integralen Yoga als zertifizierte Yogalehrerin (BYA) in der Tradition nach Swami Sivananda (Hatha) und Heil-Yoga Intuitionstrainerin Levil I und II nach Maria Dieste. Zudem lässt sie ihr Wissen als systemischer interdisziplinarer Life- und Bewusstseins-Coach sowie ihr schamanisches und energetisches Wissen und ihr Wissen aus der Kommunikation mit der Akasha Chronik einfließen. "Es gibt mehr zwischen Himmel und Erde, als unser Verstand zu fassen vermag". Sie hat eine natürlichen Offenheit und ein verbindendes Interesse am Gegenüber, welches auf vertrauensvolles Zuhören, sensibler Wahrnehmung und Feingefühl mit einer guten Prise Humor basiert. Sie holt dich dort ab, wo du stehst.
Dates:
| | | | | |
| --- | --- | --- | --- | --- |
| 1. | 29/10/2020 | 19:15 - 20:30 | zu Hause 1, 48431 Rheine | Karin Sundari |
| 2. | 05/11/2020 | 19:15 - 20:30 | zu Hause 1, 48431 Rheine | Karin Sundari |
| 3. | 12/11/2020 | 19:15 - 20:30 | zu Hause 1, 48431 Rheine | Karin Sundari |
| 4. | 19/11/2020 | 19:15 - 20:30 | zu Hause 1, 48431 Rheine | Karin Sundari |
| 5. | 26/11/2020 | 19:15 - 20:30 | zu Hause 1, 48431 Rheine | Karin Sundari |
| 6. | 03/12/2020 | 19:15 - 20:30 | zu Hause 1, 48431 Rheine | Karin Sundari |
| 7. | 10/12/2020 | 19:15 - 20:30 | zu Hause 1, 48431 Rheine | Karin Sundari |
| 8. | 17/12/2020 | 19:15 - 20:30 | zu Hause 1, 48431 Rheine | Karin Sundari |
* All prices including VAT