MEDITATION JAHRESGRUPPE ab 05.02.2021 - 19 Uhr mit Angela
Online stream
Starts on Friday, 05/02/2021
Price 98.00 €
Description:
In der Jahresgruppe treffen sich Teilnehmer*innen, die den Kurs 'Yoga und Meditation' besucht hatten, sowie Menschen, die bereits eigene Meditationspraxis mitbringen und hier die Möglichkeit finden, regelmäßig monatlich in der Gemeinschaft zu meditieren. Sanfte meditative Yogaübungen und inspirierende Texte von MeditationsmeisternInnen runden die einzelnen Treffen ab.
Sollten wir aufgrund der Corona Maßnahmen keinen Präsenzunterricht im Buddha-Saal anbieten können, findet der Kurs online statt.
Online stream
There is an online stream available for this activity. To participate, take the following steps:
This studio uses Zoom as their streaming provider to online stream their activities. Download the according software or app to your laptop, tablet or smartphone.
The access to the online stream is available 15 minutes before the start of the activity. You can find the link for the online stream in your online profile under "My bookings". With a click on "Join online stream now" you will be forwarded to the corresponding page and you join the activity online!
Specific streaming providers, e.g. Zoom, allow participants to see each other through the video camera. If you do not want to show yourself or the personal environment, you can deactivate the camera function or cover the camera. The name you enter when you join the online meeting room will be shown to other participants. However, you can change your name at any time (e.g. only specify the initials).
Trainer :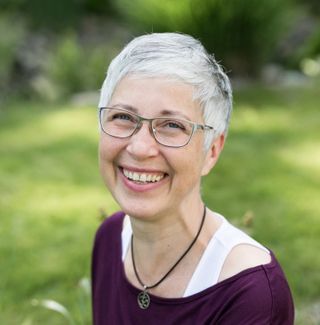 Angela
Mich hat die Yogapraxis und -philosophie in vielen Situationen immer wieder unterstützt und weitergebracht und ist dadurch zu einem wichtigen Bestandteil meines Lebens geworden. Um mehr in die Tiefe von Yoga einzutauchen, verbunden mit dem Wunsch, diese Praxis weiterzugeben, führte mich der Weg 2012 zur Yogalehrer-Ausbildung. Seitdem unterrichte ich mit großer Freude und Dankbarkeit Yoga und leite Meditationskurse und -gruppen an. Dabei ist es mir wichtig, meine Teilnehmerinnen und Teilnehmer in ihrer Individualität wahrzunehmen und innerhalb ihrer Möglichkeiten so zu unterstützen, ihre eigene, ganz persönliche Praxis zu entdecken.
Dates:
| | | | | |
| --- | --- | --- | --- | --- |
| 1. | 05/02/2021 | 19:00 - 20:30 | Holzmühlstraße 1, 67368 Westheim(Pfalz) | Angela |
| 2. | 05/03/2021 | 19:00 - 20:30 | Holzmühlstraße 1, 67368 Westheim(Pfalz) | Angela |
| 3. | 09/04/2021 | 19:00 - 20:30 | Holzmühlstraße 1, 67368 Westheim(Pfalz) | Angela |
| 4. | 07/05/2021 | 19:00 - 20:30 | Holzmühlstraße 1, 67368 Westheim(Pfalz) | Angela |
| 5. | 11/06/2021 | 19:00 - 20:30 | Holzmühlstraße 1, 67368 Westheim(Pfalz) | Angela |
| 6. | 02/07/2021 | 19:00 - 20:30 | Holzmühlstraße 1, 67368 Westheim(Pfalz) | Angela |
| 7. | 03/09/2021 | 19:00 - 20:30 | Holzmühlstraße 1, 67368 Westheim(Pfalz) | Angela |
| 8. | 01/10/2021 | 19:00 - 20:30 | Holzmühlstraße 1, 67368 Westheim(Pfalz) | Angela |
| 9. | 05/11/2021 | 19:00 - 20:30 | Holzmühlstraße 1, 67368 Westheim(Pfalz) | Angela |
| 10. | 03/12/2021 | 19:00 - 20:30 | Holzmühlstraße 1, 67368 Westheim(Pfalz) | Angela |
* All prices including VAT