Rückbildungs-Yoga mit Anna: Zurück in deine Mitte
Online stream
Starts on Tuesday, 23/03/2021
Price 112.00 €
Description:
Für frische Mamas – etwa ab 8 Wochen nach der Entbindung START: 23. März | 8-Wochen-Kurs
Nach der Geburt eines eigenen Kindes ist vieles – vielleicht alles? – anders. Ganz wesentlich ist es da für junge Mamas, wieder in ihre eigene Mitte zu finden, auf körperlicher wie seelischer Ebene, um freudvoll das Leben mit Kind oder Kindern auskosten zu können. Wenn es der Mutter gut geht, strahlt das auf die ganze Familie aus :-)
Anna zeigt dir dafür in unserem Kurs Übungen, die speziell die Körpermitte und den Beckenboden kräftigen. Gleichzeitig leitet sie dich durch eine tiefe Entspannung – ebenso wichtig, um wieder ins Gleichgewicht zu kommen. Mit Rückbildungs-Yoga stärkst du dich von Kopf bis Fuß und von Bauch bis Herz und gönnst dir wertvolle Zeit mit dir selbst… 75 Minuten in der Woche nur für dich, eine kleine Auszeit vom Mama-Alltag – das Mindeste!
Der Kurs ist speziell auf die Bedürfnisse von Frauen kurz nach der Geburt und in der Rückbildungsphase abgestimmt. Du brauchst dafür keine Vorkenntnisse.
Die wichtigsten Infos rund um den nächsten Rückbildungs-Kurs des Ananda Yoga Haus:
- geschlossener Kurs mit 8 Einheiten
- nächster Kurs beginnt am geht am 26. Januar 2021
- immer Dienstags von 18 bis 19.15 Uhr
- Online und/oder live vor Ort? Je nachdem, was die Covid-Regelungen bis zum Kursstart bestimmen, finden die Yoga-Einheiten vor Ort an unserem neuen Standort (Am Mühlbach 11 in Wiggensbach) oder online über Zoom statt. Falls wir gemeinsam vor Ort Yoga üben dürfen, bieten wir für alle, die aus welchem Grund auch immer nicht nach Wiggensbach kommen können, einen Live-Stream online der Stunden an. Die Online-Variante gibt es also auf jeden Fall.
- Kosten: 112 €
- Kursleitung: Anna Diez
- eine verbindliche Anmeldung über unser Buchungssystem Eversports ist notwendig.
Der Kurs ist jedes Mal schnell ausgebucht... - für weitere Infos oder wenn du unsicher bist, ob der Kurs der richtige für dich ist: → schreib uns einfach eine E-Mail an info@ananda-yoga-haus.de.
Wir freuen uns schon sehr auf alle frischen Mamas!
Online stream
There is an online stream available for this activity. To participate, take the following steps:
This studio uses Zoom as their streaming provider to online stream their activities. Download the according software or app to your laptop, tablet or smartphone.
The access to the online stream is available 15 minutes before the start of the activity. You can find the link for the online stream in your online profile under "My bookings". With a click on "Join online stream now" you will be forwarded to the corresponding page and you join the activity online!
Specific streaming providers, e.g. Zoom, allow participants to see each other through the video camera. If you do not want to show yourself or the personal environment, you can deactivate the camera function or cover the camera. The name you enter when you join the online meeting room will be shown to other participants. However, you can change your name at any time (e.g. only specify the initials).
Teacher :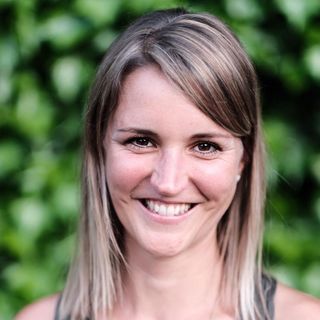 Anna
Dates:
| | | | | |
| --- | --- | --- | --- | --- |
| 1. | 23/03/2021 | 18:00 - 19:15 | Am Mühlbach 11, 87487 Wiggensbach | Anna |
| 2. | 30/03/2021 | 18:00 - 19:15 | Am Mühlbach 11, 87487 Wiggensbach | Anna |
| 3. | 06/04/2021 | 18:00 - 19:15 | Am Mühlbach 11, 87487 Wiggensbach | Anna |
| 4. | 13/04/2021 | 18:00 - 19:15 | Am Mühlbach 11, 87487 Wiggensbach | Anna |
| 5. | 20/04/2021 | 18:00 - 19:15 | Am Mühlbach 11, 87487 Wiggensbach | Anna |
| 6. | 27/04/2021 | 18:00 - 19:15 | Am Mühlbach 11, 87487 Wiggensbach | Anna |
| 7. | 04/05/2021 | 18:00 - 19:15 | Am Mühlbach 11, 87487 Wiggensbach | Anna |
| 8. | 11/05/2021 | 18:00 - 19:15 | Am Mühlbach 11, 87487 Wiggensbach | Anna |
* All prices including VAT