Conscious Soul Spirit - Erschaffe Dich neu!
Online stream
Starts on Wednesday, 13/01/2021
Price from 360.00 €
Description:
Möchtest Du Dich gerne weiterentwickeln und an den momentanen Herausforderungen wachsen? Hast Du Lust, die Energie des neuen Jahres 2021 optimal für Dein Leben zu nutzen? Stellst Du Dir manchmal die Frage, ob nicht jetzt der richtige Zeitpunkt ist, Dich zu verändern? Möchtest Du die Kraft der Gruppe nutzen, um genau das zu tun?
Immer dann, wenn äußere Strukturen wegbrechen (wie wir es 2020 erlebt haben) ruft uns dies dazu auf, auch unsere inneren Konzepte zu überholen und zu hinterfragen. Vieles von dem, was bisher so gemacht wurde, entspricht gar nicht (mehr) unserem wahren Selbst und unserem Bewusstsein. Das Jahre 2021 hat die Energie der 3 und kann daher wunderbar genutzt werden, um Veränderungen – innen wie außen – auf den Weg zu bringen und zu manifestieren. Das können kleine Schritte mit großer Wirkung sein. Bist Du erst einmal auf diesem Weg, steckst Du auch andere damit an und trägst damit zu einem neuen Bewusstsein bei, welches Transformation, Leichtigkeit und Spiritualität als treibende Kraft ins Leben holt – für ein Leben mit Sinn und Fülle.
Dies ist ein abgeschlossener 4-wöchiger Kurs, der Dich optimal ins neue Jahr begleitet. Wir arbeiten in der Gruppe mit starken Techniken aus Kundalini Yoga, Meditation, Coaching, tantrischer Numerologie, Energiearbeit und Schamanismus. Du erhältst als TeilnehmerIn außerdem eine 1:1-Energiebehandlung/Einzelberatung inklusive.
Online stream
There is an online stream available for this activity. To participate, take the following steps:
Make sure to read the description of your booked activity in advance to know which streaming provider your studio uses for online streaming. Commonly used tools are e.g. Zoom, Youtube Live, Skype, Hangouts, etc. If necessary, download the necessary software or app to your laptop, tablet or smartphone
The access to the online stream is available 15 minutes before the start of the activity. You can find the link for the online stream in your online profile under "My bookings". With a click on "Join online stream now" you will be forwarded to the corresponding page and you join the activity online!
Specific streaming providers, e.g. Zoom, allow participants to see each other through the video camera. If you do not want to show yourself or the personal environment, you can deactivate the camera function or cover the camera. The name you enter when you join the online meeting room will be shown to other participants. However, you can change your name at any time (e.g. only specify the initials).
Trainer :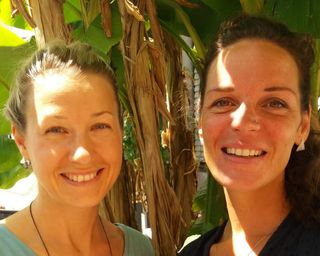 Flow
Dates:
| | | | | |
| --- | --- | --- | --- | --- |
| 1. | 13/01/2021 | 19:30 - 21:45 | Opelstraße 6f, 78467 Konstanz | Flow |
| 2. | 20/01/2021 | 19:30 - 21:45 | Opelstraße 6f, 78467 Konstanz | Flow |
| 3. | 27/01/2021 | 19:30 - 21:45 | Opelstraße 6f, 78467 Konstanz | Flow |
| 4. | 03/02/2021 | 19:30 - 21:45 | Opelstraße 6f, 78467 Konstanz | Flow |
* All prices including VAT