SPIRIT of 2021 - Jahresenergie des neuen Jahres
Online stream
Starts on Saturday, 06/02/2021
Price from 89.00 €
Description:
Bist Du auch gespannt, was das neue Jahr bringen wird? Spürst Du, dass jeder Jahreswechsel eine neue Energie mit sich bringt?
Im Yoga nutzen wir die Jahresenergie, um das Jahr bewusst zu gestalten und die Herausforderungen des Jahres konstruktiv anzunehmen und zu bewältigen. Aus der tantrischen Numerologie sowie aus der Lehre der 10 Energiekörper, der Chakrenlehre und der Astrologie lassen sich bestimmte Themenfelder und Herausforderungen des Jahres ableiten.
In diesem Jahr steht der Positiv Mind, der mit dem 3. Energiekörper zusammenhängt, sowie auch die 5, der physische Körper, und damit verbunden das 5. Chakra, im Vordergrund. Damit stehen die Themen 'Stabilität, Selbstdisziplin, Gleichheit und Toleranz, Handlung (aber welche?), Neuanfang, Wandel, Selbstfürsorge und Balance, Lernen und Reflexion über sich selbst' im Raum.
In diesem Workshop werden wir diese Themen und ihre Bedeutung für 2021 näher beleuchten und gezielte Übungsreihen/Meditationen dafür anleiten, um Dich in diesen Bereichen zu unterstützen.
Bild: Jude Beck, Unsplash
Online stream
There is an online stream available for this activity. To participate, take the following steps:
Make sure to read the description of your booked activity in advance to know which streaming provider your studio uses for online streaming. Commonly used tools are e.g. Zoom, Youtube Live, Skype, Hangouts, etc. If necessary, download the necessary software or app to your laptop, tablet or smartphone
The access to the online stream is available 15 minutes before the start of the activity. You can find the link for the online stream in your online profile under "My bookings". With a click on "Join online stream now" you will be forwarded to the corresponding page and you join the activity online!
Specific streaming providers, e.g. Zoom, allow participants to see each other through the video camera. If you do not want to show yourself or the personal environment, you can deactivate the camera function or cover the camera. The name you enter when you join the online meeting room will be shown to other participants. However, you can change your name at any time (e.g. only specify the initials).
Trainer :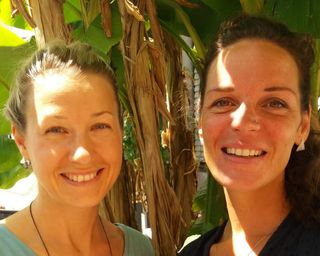 Flow
Dates:
| | | | | |
| --- | --- | --- | --- | --- |
| 1. | 06/02/2021 | 14:00 - 18:30 | Opelstraße 6f, 78467 Konstanz | Flow |
* All prices including VAT